Although actress Sharon Stone on Wednesday apologized for her "karma" comments on the May 12 quake in China, many in the country say they'll never forgive her.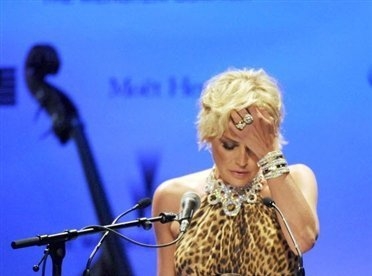 US actress Sharon Stone, seen on May 22, has apologised for suggesting China's earthquake was bad "karma" for its handling of Tibet, but Christian Dior has dropped her from its local ads amid a public uproar. [Agencies]
According to the Chinese text of the apology sent to the Beijing News by Dior's Shanghai branch on Wednesday, Stone said she felt "deeply sorry for my inappropriate words and acts, which have hurt the Chinese people's feelings."
She also extended the deepest sympathy and condolences to all victims of the disaster and said that she would participate in relief work.
On Wednesday evening, there was no trace of Stone to be seen at some Dior outlets in Shanghai, according to the Shanghai Youth Daily. No posters or ads, and big film and music stores had banished all copies of her work.
Films featuring Stone would be banned from any UME cinema in Hong Kong and the Chinese mainland, the Beijing Times quoted Ng See-Yuen, founder of the UME Cineplex chain, as saying on Wednesday.
In addition, Christian Dior, a luxury-goods group for which Stone does some modeling, said in a statement issued by its China head office that company officials "absolutely disagree" with Stone's remarks and are "deeply sorry" for them, according to the Financial Times.
Sincere as her apology seems, Chinese netizens say they don't buy it.
On qq.com, a survey found that 69 percent of about 250,000 respondents said they didn't accept her apology and will never forgive her.
Huang Yi, a mainland actress, wrote in her blog: "It is the first time I heard someone use the word 'interesting' to describe the tragedy ... those who are indifferent to life have no rights to discuss life."
A netizen named "Sayin" said: "What a stupid and selfish comment! Celebrities really should learn to think before talking."
Irish-American actress Stone became world-famous for "Basic Instinct" (1992) and was nominated for a leading actress Oscar for her performance in "Casino" (1995), according to film database IMDB.com. But she's also been a frequent nominee at the Razzie awards, an alternative "roll of dishonor" highlighting the year's worst cinematic achievements.
While Sean Penn and other stars have extended condolences to the quake survivors, the 50-year-old screen star remarked on Saturday at the Cannes Film Festival that the May 12 earthquake that devastated southwest China's Sichuan Province might have been the result of bad "karma" since Chinese are "not nice" and "bad things" happen to them.
As of Thursday noon, the quake had left at least 68,516 people dead and left 365,399 injured nationwide, according to the Information Office of the State Council.