BEICHUAN, Sichuan - Liu Yinggui, an ethnic Qiang, said he has never worried about other people's ethnicity; he would gladly open his door and share a glass of sour corn wine with anyone.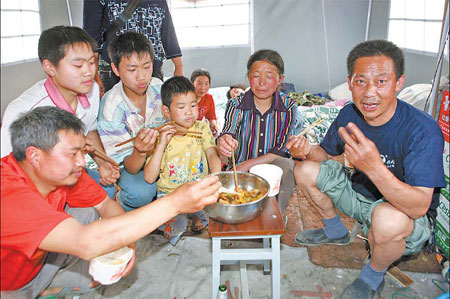 Liu Yinggui (right) eats lunch on Friday with the other families that share his temporary home in Beichuan. [China Daily] 
Sadly, truck driver Liu no longer has a door to open, as his home, like countless others, was flattened in last week's earthquake.
Prior to the quake, the Beichuan-Qiang autonomous county had a population of 160,000, more than half of them Qiang. The county, which comes under the jurisdiction of Mianyang, is also home to Han and Tibetan people.
Cai Xiangrui, deputy head of local people's congress, said: "The damage in Beichuan, an ethnically diverse region, was devastating."
Eighty percent of the buildings in the mountainous county are reported to have collapsed.
The catastrophe has saddened Liu.
"People of different ethnic groups have always got along very happily together here," he said.
"I always treated every visitor to my house the same, no matter what ethnic group they were from."
Now, the 54-year-old, who lost his wife and mother in the quake, shares a tent with four other families in the grounds of a school on the outskirts of Beichuan. His new neighbors are Qiang, Han and Tibetan.
Asked if he feared his ethnic group might disappear as a result of the disaster, Liu said he did not feel special just because he is from a minority group.
He said he was just sorry for everyone who had lost loved ones in the earthquake, adding that the disaster had brought the survivors even closer together.
"We didn't have many differences in the past," he said.
"And the visits by President Hu Jintao and Premier Wen Jiabao showed they cared for every ethnic group."
Eating his traditional Sichuan lunch of double-cooked pork yesterday, with the people who share his tent, Liu said he was fine. He even had some beer - a gift from his relatives in Mianyang - something of a rarity in the hard-hit region.
Another ethnic Qiang man, Yu Shaofa, said: "The government has done a good job of the relief work.
"We have been told each person will be given an allowance of 10 yuan and 500 g of rice every day."
He said he has received his rice, but is yet to see any money.
"Although we are an ethnic people, we live much the same lives as everyone in the county," Yu, a farmer, said.
"Most days we wear Han clothes and some Han people wear our traditional garments.
"The only difference is that we have one more festival - the Qiang New Year - than the Han people."
The Qiang people, who number about 200,000, live mostly in Sichuan. They are one of the oldest ethnic groups in China and speak their own language.
Liu Huarong, deputy head of the ethnic and religious affairs bureau of Mianyang, said relief teams are treating all ethnic groups the same, while respecting their particular customs and traditions.
"For instance, we have to make sure we provide appropriate food for Muslim people," he said.
"We respect the customs and habits of all ethnic groups, and we have no reports of anyone being upset in that regard."