YANGON  -- UN Secretary-General Ban Ki-moon said here Friday evening that Myanmar agreed to receive aid workers from all countries indiscriminately to help in cyclone relief and rehabilitation efforts.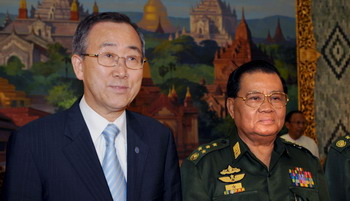 United Nations Secretary General Ban Ki-Moon (L) poses with Myanmar Senior General Than Shwe in NayPyiDaw, Myanmar May 23, 2008. In an apparent breakthrough for delivering help to millions of Myanmar's Cyclone Nargis survivors, the military government agreed to allow in "all" aid workers, Ban Ki-moon said on Friday. [Agencies]
Ban made the remarks at a press conference after he flew back from Nay Pyi Taw where he met with Myanmar top leader Senior- General Than Shwe.
He said Myanmar extremely needs more emergency international assistance, and Myanmar leaders told him that the country will fully cooperate with the United Nations.
Australia military helicopters to join relief work  in Myanmar
CANBERRA -- Australian Defense Minister Joel Fitzgibbon said on Friday night that an Australian military aircraft will take part in the effort to help Burma's cyclone victims.
Fitzgibbon said in a statement the Royal Australian Air Force ( RAAF) C-17 Globemaster plane would transport helicopters from South Africa to Thailand, to be used for relief work in Myanmar.
The helicopters would help get aid and humanitarian assistance into remote cyclone-affected areas.
"The World Food Program requested immediate support from a small number of countries as commercial aircraft were not available in a suitable timeframe," Fitzgibbon said.
"The ADF has the knowledge and experience to make an immediate and positive contribution to this humanitarian assistance effort," he said.