Thousands of people were evacuated from Beichuan yesterday amid fears that a lake formed after landslides blocked a river was at risk of bursting its banks, disaster relief officials said.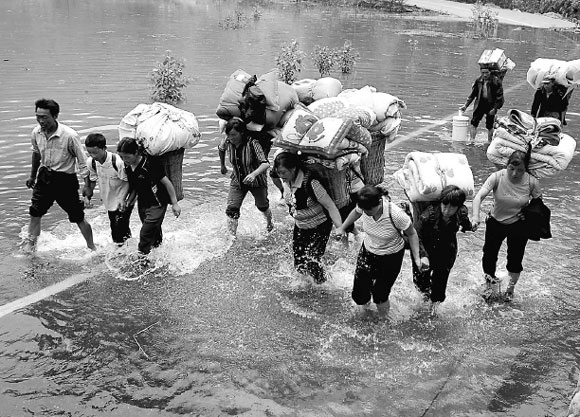 Residents from Qingchuan county are evacuated after warnings that a lake formed when the nearby Qingzhu River blocked by landslides could burst its banks. [Xinhua] 
The Ministry of Land and Resources announced yesterday that 13 such lakes had formed in Sichuan province.
A large landslide on Thursday deposited a huge amount of rocks into Qianjiang River that runs around Beichuan county, forming a 40-m deep lake, said Huang Runqiu, a geologist working at the frontline.
The lake was 10 km long and could be close to bursting its banks, Huang told China Daily yesterday.
The disaster relief headquarters in Beichuan told Xinhua that it had received reports of water levels reaching danger point at the Laoyingyan section of the Qianjiang River.
The river has been blocked at several sections by landslides caused by the quake.
"We asked people to leave because we need to prepare for the worst," an official with the headquarters said.
He said experts were conducting aerial surveys of the river and considering whether to blast the blockages to discharge the water.
A paramilitary officer said the likelihood of the lake bursting its banks was "extremely high".
A witness said by telephone that the military was evacuating everyone in Beichuan, even rescue workers.
Injured people and elderly people were carried on stretchers by soldiers and firefighters.
"I'm very scared. I heard that the water will be crashing down here," said Liang Xiao, one of the people fleeing. "If that happens, there will be over 10 m of water over our heads."
According to an engineer with the Chongqing Institute of Transportation Design, a fifth of the newly-formed lakes may breach within a day, and half within 10 days.
Meanwhile, at Hongguang township in Qingchuan county, authorities evacuated about 2,000 people downstream of the Qingzhu River as experts with the Sichuan land resources department warned of flooding risks.
Multiple landslides caused by the earthquake blocked parts of the river and formed a large stretch of water, which experts with said exceeded 10 million cu m.
More debris slides caused by aftershocks were likely to continue to push the water level up, experts said.