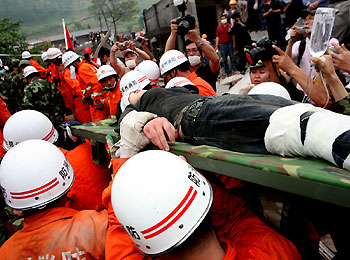 Bian Gangfen is carried to an ambulance after enduring 124 hours under rubbles at Yinghua Town, Shifang, May 17, 2008. [Photo by Huo Yan/chinadaily.com.cn] 
SHIFANG, Sichuan Province - Bian Gangfen has created a miracle. She managed to stay alive more than 124 hours after a killer earthquake toppled a 5-story building and buried her deep in the rubbles.
"It is a miracle that a woman could survive 124 hours after being buried," a rescuing doctor told a chinadaily.com.cn reporter at the site. Seventy-two hours is generally accepted as the prime time for survivors' rescue after a major quake.

Bian, 31, worked as a waitress at the club of a fertilizer factory in Yinghua Town, Shifang, close to the epicenter of the 7.8-magnitude earthquake. When the quake struck, she was on the first floor, but failed to get out.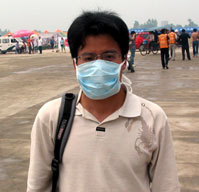 Rong Xiandong, chinadaily.com.cn reporter in Mianzhu.
Rescue workers found Bian alive with life detection equipment at about 23:00 local time Friday, nearly 105 hours after the tremor. However, a huge pillar hampered the rescue efforts.

But rescuers from the Wuhan hospital under the management of the Guangzhou Military Command in South China's Guangdong Province, and Zhengzhou in Central China's Henan Province would not give up and kept digging. Their relentless efforts paid off.

Bian was finally pulled out safely 20 hours after being found. She poured out thanks to the rescuers the minute she was out. Doctors said she had suffered some back injuries and had sent her to a local hospital.

"I am exhausted," said a rescuer. "But it is worthwhile. And we are proud of this humane miracle."

Bian's relatives, including her 9-year-old daughter, her two elder sisters and her mother-in-law, all survived the deadly earthquake. Bian's husband is now in hospital for treatment as he was badly burnt by vitriol as a result of the earthquake.
Other Miracle Survivors:
-- A 46-year-old man was saved alive at about 11:06 pm Saturday night after being buried for almost 129 hours in the rubble of a collapsed residential building in Dujiangyan. The survivor, Zhang Xiaoping was immediately sent to hospital to have his legs amputated.
-- A 61-year-old woman was saved alive Saturday evening by Russian rescuers after being buried for up to 127 hours in the rubble. The unidentified woman was the first survivor found by foreign rescue teams -- including a total of 237 rescuers from Japan, Russia, the Republic of Korea and Singapore.
-- In Yingxiu Township, the epicenter county of Wenchuan, Jiang Yuhang, 20, a highway administration employee, was extricated at about 5:12 pm after being trapped for 123 hours in the rubble of his home.
-- Zhou Zhi, 33, was pulled alive at about 6 pm Saturday from the rubble of a workshop above ground at the Jinhe Mine in Hongbai Township in Shifang county.
-- A 52-year-old man, Ji Zhongshan, was pulled from a collapsed building of a former five-story hotel in Beichuan county, about 160 km northeast of the epicenter, 11:30 am Saturday, 117 hours after being trapped in the rubbles.
-- In a Taoist temple near Yinghua, Shifang, two monks were discovered after being stranded in the area for about five days after the tremor.