CHENGDU -- Exhausted rescuers have pulled out more survivors on Sunday from the rubble left by the devastating southwest China earthquake on May 12.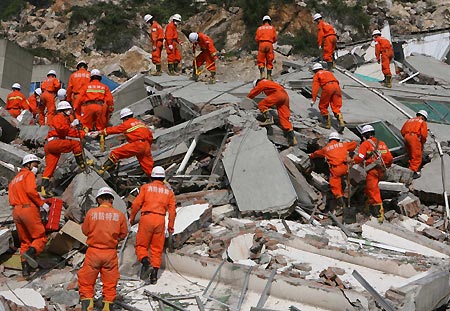 Rescuers search for buried people at the rubble in the quake-devastated Beichuan County, southwest China's Sichuan Province, May 18, 2008. A survivor named Tang Xiong was saved from the rubble on May 18, 139 hours after being buried. [Xinhua]
A woman named Yu Jinhua was saved alive around 8:10 pm Sunday from a flattened power plant in the Yingxiu Town of quake epicenter Wenchuan County.
"This is already a miracle. We believe she has been trapped more than 150 hours," said Lu Changchun, who came from Shandong and led the rescue operation.
A group of fire-fighters discovered Yu early Friday, but the rescue had been very difficult due to oddly misshaped structures on top of the woman and continuous aftershocks, Lu said.
"We had to be very careful and we tried five different plans. There was a dead body in the way, and her legs were already putrefied," Lu said.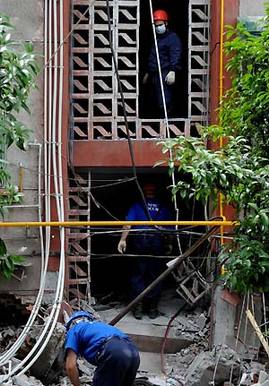 Russian rescuers try to take a body out of the debris in Dujiangyan, a city of southwest China's Sichuan Province, May 18, 2008. [Xinhua]
Rescuers dug a five-meter deep whole to reach the woman, and had to amputate her legs before saving her.
"She was in a delirious state. She murmured she was already in a hospital and plead to stop saving her. We fed her milk and water, and her families were there to reassure her," said Ma Gang, another rescuer.
Yu has been taken to a nearby surgery.
Also in Yingxiu, a man named Shen Peiyun, 53, was rescued from his collapsed office building at 3:36 pm Sunday, after 146 hours in the rubble.
He suffered head injuries and was sent to Huaxi Hospital affiliated to Sichuan University in Chengdu. Doctors said he had a "very good chance" of recovery.
Shen was conscious and clutched the hand of a People's Liberation Army doctor throughout his 30-minute trip by helicopter to the provincial capital Chengdu, the China Central Television reported.
Sunday also witnessed another tale of survival in which a slightly bruised man Tang Xiong was pulled from a collapsed hospital of Beichuan County at 9:15 am, 139 hours after the quake.
Tang was still conscious when he was pulled out, said rescuers. His wife was rescued on Thursday.
The survival tales followed from Saturday which saw more than 60 people saved from the earthquake wreckage.
Also in Beichuan, one of the worst-hit counties in the 8.0-magnitude quake, a man Wu Jianping was rescued at 9:55 pm Saturday from a collapsed building, 127 hours after the tremor.
Monday's quake, the strongest to hit New China, had killed 32,476 people as of 2 pm Sunday, including 31,978 in Sichuan. An additional 220,109 people were injured nationwide, according to the emergency response office of the State Council.
A 61-year-old woman, who had been buried for 127 hours, was saved from a ruined dormitory building in Dujiangyan by Russian rescuers late Saturday night. She was the first survivor found by a foreign rescue team.
Although the time for the best chance of rescue, the first 72 hours after an earthquake, had passed, "saving people's lives is still the top priority of the relief work", President Hu Jintao said Saturday night.
Hu flew to Sichuan on Friday from Beijing to oversee relief work in the worst-hit areas. The government has mobilized rescue staff to conduct thorough searches in quake-ravaged villages for possible survivors and to never give up.
Qian Gang, author of the book Tangshan Earthquake, said 72-hourperiod was just an average time, as many people had survived for much longer.
Qian, who spent ten years interviewing survivors of the Tangshan earthquake that claimed more than 240,000 lives in 1976 in Hebei Province, said it was possible that people could live after being buried for more than eight days if they had the will to survive.
He cited the case of an elderly woman who drank her own urine to sustain her for 13 days until rescuers pulled her out of the debris.