BEIJING  -- The death toll from the earthquake in southwest China's Sichuan Province has risen to 28,881 nationwide as of 2 pm Saturday, while 198,347 people were injured, according to the Information Office of the State Council.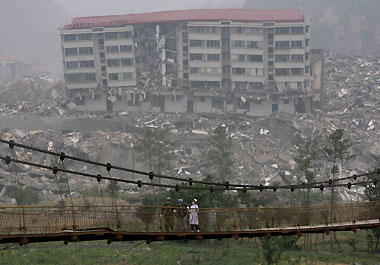 A nurse and a soldier help a patient (C) to cross a bridge in the city of Beichuan, located around 150 km north of Chengdu, in Sichuan Province May 16, 2008.  [Agencies]
A total of 15.61 million houses in quake areas were damaged nationwide, with 3.13 million collapsed.
As of 8 pm Friday, 116,460 injured people have been hospitalized, with 15,858 people in critical conditions.
Over 28,300 of the total deaths are in the Sichuan province. In its neighbouring regions, 364 were killed in Gansu, 109 in Shaanxi, 15 in Chongqing, 2 in Henan, one in Yunnan, and one in Hubei.
As of 11 am Saturday, 145 aftershocks measuring 4 or higher on the Richter scale had been monitored since May 12, Guo Weimin, an official of the Information Office, told a press conference Saturday afternoon. Quakes measuring above 5 on the Richter scale numbered 23.
No cases of epidemics or emergent public health incidents have been reported in quake areas so far, according China's Ministry of Health.
By 1 pm Saturday, more than 181,460 tents, 220,000 quilts and 170,000 cotton-padded clothes have been allocated by China's Ministry of Civil Affairs, which also set aside another 500 million yuan for disaster relief fund on Friday together with the Ministry of Finance.
Domestic and international donations to the quake areas have exceeded 6 billion yuan. Rescue teams from Japan, Russia, Republic of Korea and Singapore have already started rescue missions in quake areas.
So far, infrastructure in the quake areas is gradually resuming function, with a steady supply of goods, according to Guo.
Over 70 percent of the affected cities and townships in Sichuan Province had resumed water supplies by Friday, but some other 1.4 million people still suffered from limited access to water.
"The focus of our work will gradually shift to rural areas impacted by Monday's quake, " Guo said, citing a report from the General Staff Department of the People's Liberation Army (PLA).
A total of 26,801 personnel were engaging in disaster relief and rescue operations in 132 affected townships on Friday. A total of 165 people were rescued from under the rubbles on Friday alone, along with 2,373 dead bodies.
The rescue forces evacuated 10,351 people cut off during the quake, and carried 982 tons of relief goods for to quake areas for relief work on the same day, Guo said.
Local authorities are also currently engaging in the repairs of power supply facilities, telecommunication facilities, and the Baoji-Chengdu Railway, paralyzed as a 40-car freight train derailed and trapped inside a tunnel in Sichuan's neighbouring Gansu Province.