BEIJING  -- The death toll from the 7.8-magnitude earthquake in southwest China's Sichuan Province rose to 22,069 nationwide as of 2 p.m. Friday, while 168,669 people were injured, according to the emergency response office of the State Council.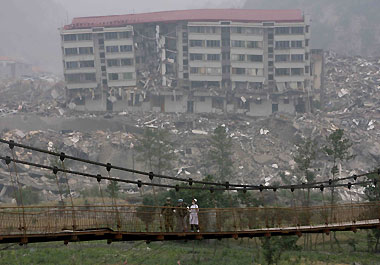 A nurse and a soldier help a patient (C) to cross a bridge in the city of Beichuan, located around 150 km north of Chengdu, in Sichuan Province May 16, 2008.  [Agencies]
Altogether 21,577 people were killed in Sichuan, close to 2,000 up from Thursday, and 159,006 injured.
In its neighbouring regions, 364 were killed in Gansu, 109 in Shaanxi, 15 in Chongqing, 2 in Henan, one in Yunnan, and one in Hubei.
A rescue headquarters headed by Premier Wen Jiabao under the State Council had said on Thursday that it feared total death toll of Monday's quake could top 50,000.
Nearly 100 hours after Monday's powerful quake, Chinese President Hu Jintao and Premier Wen on Friday again urged continued efforts in quake rescue and relief work and giving top priority to the saving of people's lives.
A meeting held between the two Chinese top leaders said the previous relief work had been progressing orderly and effectively, which paved a smooth way for the following work.
In face of the pressing time, uttermost efforts must be made if only there exists the slimmest hope of survivors, the meeting said.
In the meantime, a total of 181,460 tents, 170,000 cotton-paded clothes and 220,000 quilts had been allocated by the Ministry of Civil Affairs for the quake-hit areas.
The ministry is planning to arrange adoptions of quake orphans, with the number of homeless children increasing and more concerned organizations and individuals proposing for adoption. The orphans are currently taken care of by local governments.

33 Survirors Rescued in Beichuan
Thirty-three more survivors were pulled out of debris in Beichuan county in southwest China on Friday as rescue efforts entered the fourth day since the 7.8-magnitude earthquake on Monday.

The total number of survivors saved in Beichuan in Sichuan Province rose to 13,595, rescuers said.

Beichuan, a county of about 160,000 people, is one of the worst-hit region, with 80 percent of the buildings collapsed and at least 7,000 lives lost.

A 46-year-old survivor, Peng Zhijun, had lived on cigarettes, paper napkins and his urine when he was buried in the rubble in the past four days. He was still sober-minded almost 100 hours after the quake.

Doctors said he suffered bone fractures in the left arm and slight injuries in the legs, but the other parts of his body were basically in good condition.

"Natural disasters cannot be avoided. I had to save me from myself," Peng told reporters Friday evening.

He recalled that more than 10 people had been buried beside him in the rubble. "At the very beginning, they were all alive. But unfortunately, they died one after another."

"I had encouraged some of them to drink their urine. But they did not listen," he said.

Zhang Yan, a 36-year-old woman pharmacist, was rescued at 2:36 p.m. Friday. She was unconscious and soldiers carried her on their backs to a nearby medical center.

A 72-year-old woman named Deng Zhongqun was found by soldiers after being stranded at her badly damaged hillside house. She had been injured by a falling girder and had eaten only nuts over the past four days.

"Thank goodness for the soldiers. I only weigh 65 kilograms and they carried me by turns on their backs, walking miles to reach the medical station," said Deng.

The death toll in Sichuan alone exceeded 21,500 while 14,000 others remained buried as of 4 p.m. Friday, vice provincial governor Li Chengyun said at a press conference.

He said that 159,000 people were injured in the massive earthquake and 4.8 million people had been relocated.

Friday's death toll rose by about 2,000 from that of Thursday.

Sichuan had experienced 4,432 aftershocks in the past four days, Li said.

The national death toll from the earthquake rose to 22,069 as of 2 p.m. Friday, while 168,669 people were injured, the latest government statistics show.

In addition to the deaths in Sichuan, 364 were killed in Gansu Province, 109 in Shaanxi Province, 15 in Chongqing Municipality, two in Henan Province, one in Yunnan Province and one in Hubei Province.

The central government allocated another 1.17 billion yuan ($167 million) to the relief fund for quake-hit areas on Friday. This brought the disaster relief fund from the central budget to 3.41 billion yuan.

Public donations in both cash and goods to the quake-hit areas rose to 3.175 billion yuan as of 4 pm Friday, according to the Ministry of Civil Affairs.

China has mobilized more than 130,000 troops for rescue operations, who were desperate to excavate survivors despite the passing of the prime time for survivors' rescue -- 72 hours after the quake.

Foreign rescue teams from Japan, Russia, the Republic of Korea and Singapore have arrived in Sichuan to aid the disaster relief efforts.