By Rong Xiandong, Xiao Ting in Shifang and Nie Ligao in Beijing (Chinadaily.com.cn)
Updated: 2008-05-16 00:54
Shifang City, Sichuan -- Tang Hong held one of his students in arms and sheltered several others with his body when rescue workers found him in rubbles.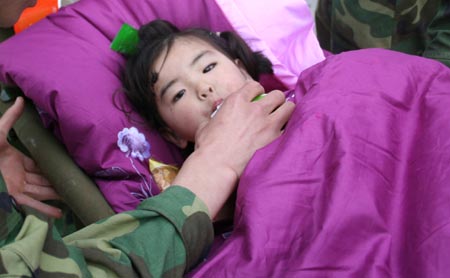 Soldiers feed milk to Song Xinyi, a 3-year-old earthquake survivor, in earthquake-hit Beichuan County, Southwest China's Sichuan Province, May 14, 2008. Song was rescued after being buried in the ruins for more than 40 hours. [Xinhua]
The lives of the students he thus protected were saved but not his.
The 20-something young teacher would have escaped the tragedy because he had enough time to flee from his classroom on the ground floor.
But he and 6 colleagues were confirmed dead at the Hongbai Town Central School of Shifang City, one of the worst quake-ravaged areas,74 km southeast to the epicenter. Shifang, a city of 430,000, had registered 3,000 deaths by the killer earthquake, which jolted the southwest Chinese province on May 12.
 
China Daily reporter Rong Xiandong talks about what he saw at the Hongbai Town.
Among the dead, 14-year-old Feng Peipei had called her mother several days before the earthquake, and promised she would give her a gift for the Mother's Day and her mother's birthday.
All the mother received was news about her daughter's death.
At least 500 of the total 732 students at the school were buried and it is estimated that only 100 could survive.
Only one gas station still stands on the ruins at the Hongbai Town, which is home to nearly 10,000 dwellers.