Death Toll Rises to 22,069
By 2:00pm Friday, the death toll in southwest China's Sichuan Province rose to 22,069 nationwide, while 168,669 people were injured, according to the emergency response office of the State Council.
Altogether 21,577 people were killed in Sichuan, close to 2,000 up from Thursday, and 159,006 injured.
Working 24 hours a day, the rescuers finished rushed repairs on a quake-damaged road from Lixian county to the epicenter, Wenchuan county, at 9:30 pm Thursday night.
Sichuan Vice-Governor Li Chengyun told a press conference that another 102,000 people were injured.
In the early morning of May 16, a professional search and rescue team from Japan has entered Sichuan Province, and entered the quake-hit areas. And rescuers from Russia, South Korea and Singapore are also expected to arrive soon.
Rescuers have been struggling to reach all quake-hit areas, battling landslides, buckled roads, collapsed bridges and wet weather.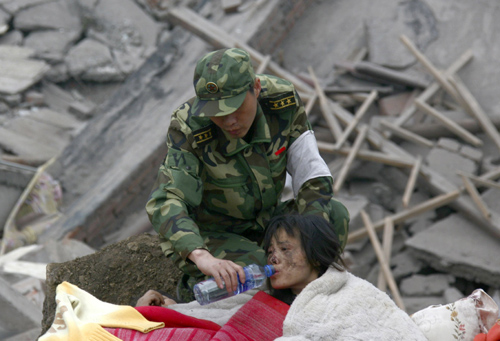 A soldier gives a wounded woman water at the earthquake-hit Beichuan County, about 160 kilometers northeast of the epicenter of Wenchuan County, Sichuan Province, May 13, 2008. China dispatched more soldiers to the earthquake-ravaged province of Sichuan on Wednesday to quicken a search for survivors. [Agencies]