The death toll from the country's worst earthquake in three decades is estimated at more than 50,000, the rescue headquarters of the State Council said on Thursday, as rescuers finished rushed repairs on a quake-damaged road from Lixian county to the epicenter at 9 pm.
The figure was a sharp rise from 20,000 confirmed deaths reported earlier from Monday's 7.8-magnitude quake.
Sichuan Vice-Governor Li Chengyun told a press conference that another 102,000 people were injured.
Rescuers have been struggling to reach all quake-hit areas, battling landslides, buckled roads, collapsed bridges and wet weather.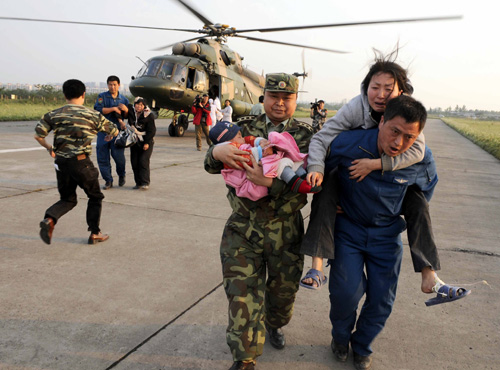 Soldiers carry those injured from the earthquake from a military helicopter that transported them to Chengdu, capital of Southwest China's Sichuan Province, May 14, 2008.
[Xinhua]
As of 8 am on Thursday, more than 130,000 troops were engaged in rescue operations in areas ravaged by the quake - and they had reached all 58 counties and towns stricken by the massive quake.
The newly opened road - part of a national highway from Nagqu in Tibet to Chengdu - ensures faster delivery of disaster relief materials to the epicenter of Wenchuan, the first time after it was blocked by landslides when the quake struck on Monday.
Premier Wen Jiabao went to Qingchuan county on Thursday, near the badly-hit Beichuan county, by boat to oversee rescue work.
He told disaster relief personnel including firemen and medics that "the Party and the country thank you and the people need you".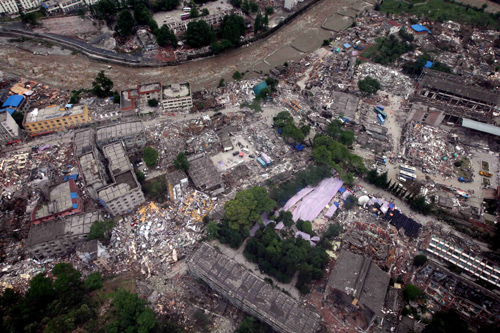 An aerial view of a town in the epicenter of Wenchuan County, Southwest China's Sichuan Province, after the deadly May 12 earthquake, in May 14, 2008. [Xinhua]
Wen encouraged residents to "rise from sorrow, help each other and rebuild homes".
He said that government will make the utmost efforts to help the victims. "See, a large number of soldiers are coming. Food, water and tents will also come soon."
Experts said the rescue window was getting smaller.