As of 7 p.m. Tuesday, southwestern Sichuan Province has reported 12,012 deaths in Monday's quake, according to the disaster relief center under the State Council.
Another 9,404 were buried in debris, 7,841 were missing and  26,206 people were injured, according to the headquarters.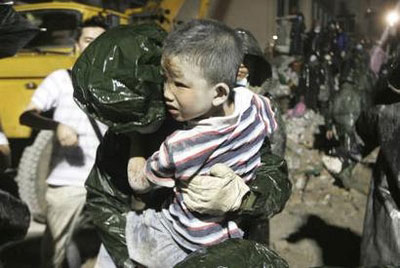 A boy is rescued from the debris of a collapsed building after an earthquake in Dujiangyan, Sichuan province May 13, 2008. [Agencies]
Li Chengyun, vice governor of Sichuan, provided a breakdown of the death toll, including 161 in the Aba Tibetan and Qiang Autonomous Prefecture, 7,395 in Mianyang City, 2,648 in Deyang City, 959 in the provincial capital Chengdu and 700 in Guangyuan City. Other casualties were reported in cities including Ya'an, Ziyang and the Garze Tibetan Autonomous Prefecture.
The death toll climbed from an earlier tally provided by the Ministry of Civil Affairs, which put the Sichuan death toll at 11,608. Authorities said the death toll might change every hour, as they heard reports from rescuers who were seizing every minute to pull out bodies from the earthquake rubble.
The military doctors and soldiers have started to search for survivors and treat injured people at the Yinxiu County of Wenchuan, 20 kilometers from Dujiangyan city.
The road from Dujiangyan, a city northwest of the provincial capital Chengdu, to Wenchuan, the epicenter, was blocked by rocks and mud slides, holding up rescue, medical and other disaster relief teams. Sichuan provincial officials said more than one third of the buildings and houses in Wenchuan were leveled off. The casualties there remain unknown.
Tuesday morning, Premier Wen Jiabao ordered to remove barriers and open up roads to epicenter before 12:00 pm Tuesday after a strong earthquake jolted southwest China's Sichuan Province Monday afternoon.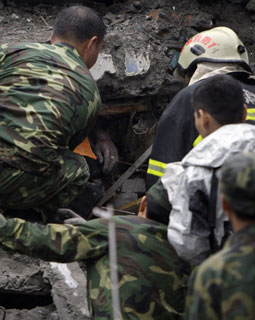 People's Liberation Army (PLA) soldiers try to dig out a victim buried under the remains of an apartment block that collapsed after a huge earthquake shook the area in the city of Dujiangyan, located around 50 kilometres north of Chengdu in Sichuan Province, May 13, 2008.  [Agencies]
Soldiers from the Chengdu Military Command have chosen to walk to the areas with heaviest damage inflicted by the quake.
The 7.8-magnitude tremor devastated a region of small cities and towns set amid steep and forestry hills northwestern of Sichuan provincial capital of Chengdu. Striking in mid-afternoon on Monday, it emptied office buildings across the country in Beijing and Shanghai and could be felt as far away as Vietnam and Thailand.
The death toll exceeds 12,000 by 4 pm Tuesday in Sichuan Province alone, according to local government. At least 4,800 people remained buried in Mianzhu, 60 miles (100 kilometers) from the epicenter, Xinhua said, citing local authorities.
The casualty figures were expected to rise and remained uncertain due to the remote areas affected by the quake and difficulty in finding buried victims.
The killer quake toppled buildings, schools and chemical plants, trapping unknown numbers in mounds of concrete, steel, wooden frames, bricks and earth in China's worst earthquake in three decades.
 Chinese President Hu Jintao, back to Beijing following a 5-day state visit to Japan, convened a CPC Politburo Standing Committee meeting Monday night, and ordered all-out efforts for the rescue. More than 16,000 PLA officers, soldiers and police have rushed to the quake-stricken areas.


Premier Wen Jiabao, heading a slew of government ministers and leading the overall rescue endeavoring, flew to Sichuan province Monday evening. Wen inspected a local hospital and a middle school in Juyuan town, where a three-story high school collapsed and up to 900 students were trapped in the rubbles. Xinhua news agency said that more than 50 have been found dead.
Wen ordered no single minute should be wasted in order to save those trapped alive in the debris. Online photos showed people using cranes, mechanical hoists and their hands to remove slabs of concrete and steel.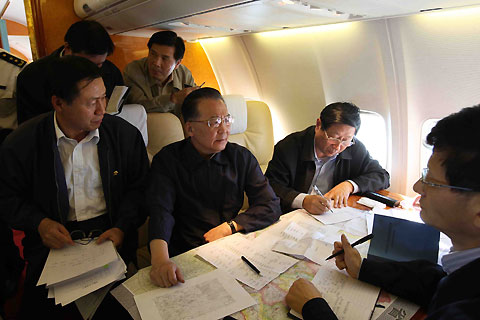 Premier Wen Jiabao(C) arranges relief work with officials onboard the plane to quake-stricken area on May 12, 2008. [Xinhua]
"Please just hold on, people are going to get you out of here, " Wen told the people trapped in the collapsed buildings in a loudspeaker.
China's CCTV footages on Tuesday showed more than 10 trapped in the debris have been rescued alive, including a middle-year woman, and a small girl, her face covered with ashes, being moved out from the debris on a stretcher, and rushed to hospital.
When comforting patients and medical staffs in the hospital in Dujiangyan, suburban Chengdu, Premier Wen asked rescuing troops to search every corner for people waiting for salvation and carry out the rescue work in an orderly way.
"If there is a gleam of hope, we will do all the best to save the people," Wen vowed at the middle school at Juyuan town, adding that the rescuing team would not rest until the last one under the ruin was saved.