China's first ever jumbo passenger aircraft company, which was a major part of the nation's large jet program, was officially inaugurated in Shanghai on Sunday.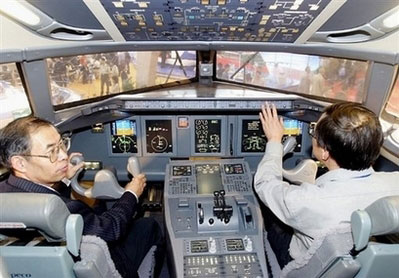 File photo shows officials in the cockpit of the China Aviation Industry Corporation's ARJ21 passenger jet in Beijing. [Agencies/file]
Vice Premier Zhang Dejiang said at the inauguration ceremony that the large jet program was significant to improve China's independent innovation capabilities and to meet the rapidly expanding civil aviation market at home.
For the program, China should actively import sophisticated technologies, and at the same time, make breakthroughs in core technologies and achieve related independent intellectual property rights, according to Zhang.
The newly established company, named Commercial Aircraft Corporation of China Ltd.(CACC), will be responsible for researching, developing, manufacturing and marketing the homegrown large passenger aircraft.
Domestic airline companies, foreign suppliers, and representatives from international aviation producers including Boeing and Airbus attended the inauguration ceremony.
The CACC has a registered capital of 19 billion yuan (US$2.7 billion). The State-owned Assets Supervision and Administration Commission alone invested 6 billion yuan, becoming the biggest shareholder.
Shareholders of the new company also include China Aviation Industry Corporation I (AVIC I), the country's largest aircraft producer, and China Aviation Industry Corporation II (AVIC II).
Zhang Qingwei, minister of then State Commission of Science, Technology and Industry for National Defense, was appointed the board chairman.
Jin Zhuanglong, the company's general manager, told Xinhua that "It is too early to set a timetable or make development strategy," adding that it will take a long time for the company to train talents and do research.
"Since large aircraft cannot be made in one or two days, CACC will pose no threat to large jet-makers like Boeing and Airbus," Jin said.
Jin added that China is to make full use of worldwide resources to develop the aircraft, and welcomes cooperation from foreign companies.
According to Jin, CACC's goals within the first few years include finishing delivery and maiden flight of ARJ21 aircraft, establishing an operating system and training talents.
Shanghai Aircraft Manufacturing Factory and the First Aircraft Institute of AVIC I, which participated in producing the country's first homegrown regional jet ARJ21-700, joined the newly established CACC.
ARJ21-700 rolled off the production line in Shanghai last December, and will start its maiden flight in upcoming Autumn.
Establishment of CACC was approved in February 2007 by the State Council, China's Cabinet. This was to make the country capable of building aircraft with a take-off weight of more than 100 tonnes, or planes with more than 150 seats.
Echoing Jin Zhuanglong, Jin Qiansheng, head of the management committee of Yanliang State High-tech Aviation Industry Base, said, "China's jumbo jet program will not impose a threat to Boeing and Airbus at least in the coming 20 years. Even if China built up its own production capacity of large jets, it would be able to meet quite a small part of the domestic demand. Boeing and Airbus will continue to claim the majority of the Chinese market."
Located in Xi'an, capital city of northwest China's Shaanxi Province, the Yanliang base is home to Xi'an Aircraft Industry (Group) Co., Ltd. and another 125 aviation businesses.
Jin Qiansheng told Xinhua that the Xi'an Aircraft industry company, which is under the AVIC I, will serve as a major big-part manufacturer of the large passenger jet project.
Jin Qianshen said China was willing to cooperate with foreign companies in developing large passenger jets.
Earlier media reports quoted Laurence Barron, president of Airbus China, as saying that the European aircraft producer hoped to know more about the (China's large jet) program, and had been prepared for probing into any possibility of cooperating with Chinese partners on the program.
According to Zhang Qingwei, chairman of the newly established Commercial Aircraft Corporation of China Ltd., in the process of CACC's formation, China obtained support and concern from such world big-names as Boeing, Airbus, GE, Honeywell and Bombardier.
Jin Qiansheng estimated that approximately 3,000 to 5,000 non-state businesses nationwide would be ushered into the large jet program. But it still takes time for such companies to get familiar with the aircraft industry, he told Xinhua.