FUYANG, Anhui: The potentially fatal intestinal virus known as EV-71 had infected 3,321 children in the city as of Friday, and the death toll had risen to 22, a spokesman for the provincial government said.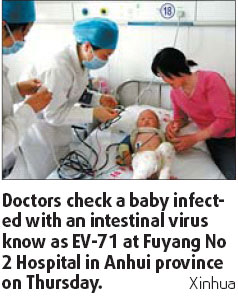 The latest death was reported on Friday, Wang Yan told a press conference on the epidemic.
He added that 978 are in hospital, of whom 48 are critically ill.
"Babies with such habits as sucking fingers are prone to the disease," Ran Xiangui, deputy director of Fuyang No 2 Hospital, said.
"Most of the infected children are from rural areas," he said. "The public health environment is generally not as good as in cities."
The hospital where Ran works is under great pressure treating the patients, he said. "Every day, about 20 are discharged after recovery, while 40 to 50 are admitted. We are short staffed."
Experts from other provinces and the Ministry of Health (MOH) have been sent to the designated hospitals to help with the treatment.
Related readings:


 Virus infection hits 2,477, kills 20

 Virus under control, but 'will spread'


 China to step up monitoring of EV71 virus after fatal outbreak


 Daily reporting on virus installed in East China
Official figures show that there are 580,000 children under 5 in Fuyang.
Xie Jiawang, a 14-month-old boy, was diagnosed with the viral infection and has been in Ran's hospital since April 24.
His mother, Yang Juan, said: "We've spent nearly 8,000 yuan ($1,144) because the boy has no health insurance. It's really a huge amount for us farmers."
Taxi driver Wang Bin told China Daily that he had driven five couples with their babies to the railway station on Friday.
"They were fleeing the city to protect their babies from the virus," he said.
"The government should have alerted the people earlier about the disease."