An old photograph of an inmate at a Lhasa jail was one of the main attractions Wednesday on the opening day of the "Tibet of China: Past and Present" exhibition at the Cultural Palace of Nationalities in Beijing.
The harrowing image shows Bu-rdo, a former herdsman and inmate at the sNang-rtse-shag Prison in Lhasa, after having his eyes gouged out. In front of him are the instruments wardens used to perform the horrific act.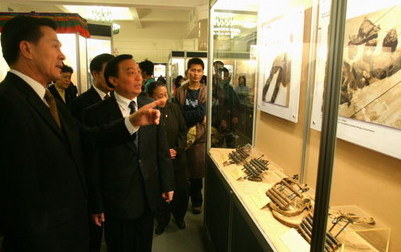 Wang Chen, minister of the State Council Information Office (second from left), and Yang Jing (left), minister ofthe State Ethnic Affairs Commission, look at a display of an exhibition on Tibet April 30, 2008. [China Daily]
On display beneath the photograph are the actual instruments of torture from the infamous prison. They include a stone "hat" weighing 21 kg that was put on victims' heads to make their eyes bulge, and a 27-cm-long knife used to remove eyeballs.
Yang Jing, minister of the State Ethnic Affairs Commission, said: "The feudal serfdom in old Tibet was a dark and backward social system that deprived the Tibetan people of their basic human rights and kept Tibet in a medieval state."
Millions of serfs were liberated during the democratic reform of 1959 and since then, their lives have changed considerably.
"We hope this exhibition will help people from home and abroad get to know more about Tibet's past and present," Yang said. The exhibition features many rare cultural pieces. But of the 146 exhibits and 182 pictures, the 47 instruments of torture have proved the most compelling.
Jin Yi, a former singer with the China National Ethnic Song & Dance Ensemble, said that she learned a lot from the exhibition. "The old serfdom was horrible and inhumane. Tibetan people must be much happier these days," she said.
The exhibition, held by the United Front Work Department of CPC Central Committee, State Council Information Office, State Nationalities Affairs Commission and the government of the Tibet autonomous region will run until July 25.