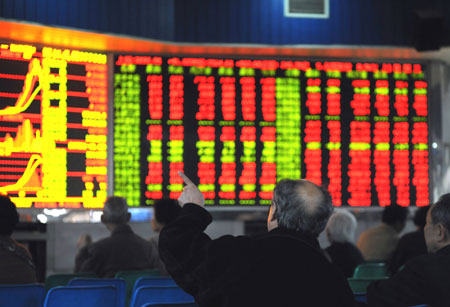 Investors look at an electronic board showing stock information at a brokerage house in Southwest China's Chongqing Municipality Wednesday April 23, 2008. The stamp tax on stock trading was cut to 0.1 percent from the current 0.3 percent starting from Thursday, the China Central Television (CCTV) reported wednesday night. [Xinhua]
China's stock market jumped eight percent on Thursday after an overnight cut in the stamp tax on stock trading.
The Ministry of Finance and the State Administration of Tax slashed investors' trading cost to 0.1 percent from 0.3 percent starting from Thursday in the latest official attempt to revive the market.
At the long-awaited news, investors went into a buying spree, pushing the benchmark Shanghai Composite Index to open 7.98 percent higher at 3,539 points. More than 80 stocks jumped their daily limit of 10 percent at opening.
The new tax move came after the country's stock market has fallen nearly 50 percent from its peak since mid-October in the face of a mixture of factors, including the over-valuation of shares, tight monetary policies, and concerns over the economy and corporate earnings due to a global economic slowdown.
Coupled with the declines was plummeting investor confidence, as evidenced by the lackluster sales of once red-hot investment funds. That prompted more and more financial experts to join the chorus for regulators to act.
At an executive meeting of the State Council chaired by Premier Wen Jiabao on Tuesday, decision makers decided to push forward the healthy development of the country's capital market, according to the CCTV.
The reduction in trading cost followed new trading rules announced during the weekend that ordered the selling of big amount of shares to be conducted on a bloc trading system.
Intended to relieve the selling-pressure on the market, the rules, however, failed to put much faith into jittery investors who turned to profit-taking after an immediate rebound.
The benchmark Shanghai Composite Index (SCI) tumbled more than four percent on Tuesday to fall below 3,000 points, the lowest level in 13 months, before rallying to positive territory. The gauge jumped 4.15 percent on Wednesday.
The tax move came 11 months after the trading cost was tripled to 0.3 percent to take the steam out of a spectacular bull run that saw the SCI more than quadrupled in less than two years.
Also on Wednesday at its executive meeting, the State Council deliberated and approved in principle two securities-related draft regulations to promote the healthy and stable development of the equity market -- 0ne about supervision of securities companies and another about risks disposition of securities companies. The two regulations will be implemented after further revisions.