Former French Premier Jean-Pierre Raffarin has criticized Paris's decision to honor the Dalai Lama and stressed there is no "confrontation" with China following angry protests, a Chinese newspaper reported on Wednesday.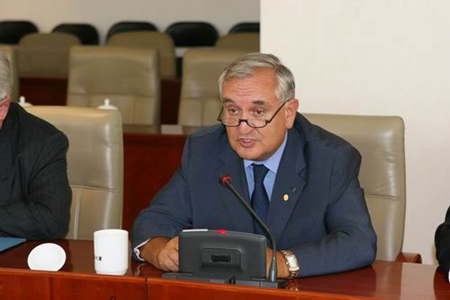 Former French Premier Jean-Pierre Raffarin, who is also representative of French-speaking countries to BOCOG, speaks at a meeting with officials of the Beijing Organizing Committee for the Games of the XXIX Olympiad (BOCOG) in Beijing on September, 2007. [beijing2008.cn] 
Jean-Pierre Raffarin, who arrives Thursday bearing a message from President Nicolas Sarkozy, said Paris city council was contradicting official policy by conferring citizenship of the capital on the Dalai Lama.
Raffarin characterized the honor by Paris city council as "a very serious political mistake," according to the text of an interview published Wednesday in the China Youth Daily.
"When making comments on some international issues, (Paris Mayor Bertrand Delanoe) must maintain consensus with the state's diplomatic strategy," he was quoted as saying in the interview, published in Chinese.
"While President Sarkozy makes efforts to improve France-China relations, the Paris administration is running in the opposite direction to the French government. This is very bad."
During the interview, Raffarin also says he believes that Delanoe's move is an attempt to garner votes within the Socialist Party as he vies for party leadership.
China on Tuesday expressed its strong discontent and resolute opposition to Paris city council awarding the Dalai Lama honorary citizenship of the city.
"This act grossly interferes in China's internal affairs and severely infringes on Sino-French relations, as well as the existing friendly relations between Beijing and Paris in particular," said Jiang Yu, Foreign Ministry spokeswoman, at a press conference.
Raffarin was quoted as saying that there "exist no strategic differences or confrontation between France and China."
"The recent tense atmosphere between the two nations is a 'clash of emotions' between the two peoples," he said.
Raffarin was to meet Chinese Premier Wen Jiabao on Thursday and was expected to hand over a letter from Sarkozy to Chinese President Hu Jintao later this week.
Meanwhile, the Chinese commerce ministry cautioned against the Carrefour boycott, pointing out that it employs 40,000 Chinese and that up to 95 percent of its products were made in China.
"We also welcome the expression of opposition to 'Tibetan independence' and the support for the Beijing Olympics made by Carrefour," a commerce ministry spokesman said, after the retailer denied allegations of supporting the Dalai Lama.
Sarkozy's diplomatic advisor Jean-David Levitte is also due in China by the weekend, bringing another message from the president.
On Monday, visiting French Senate leader Christian Poncelet delivered yet another letter from Sarkozy to Jin Jing, a handicapped Chinese athlete who was assaulted by Tibetan separatists during the Paris torch relay.
"On the Tibet issue, President Hu Jintao has already expressed that the Chinese government is willing to hold dialogue with the Dalai Lama, but that there are certain preconditions," Raffarin said.
"President Sarkozy believes these preconditions are completely reasonable," he was quoted as saying.