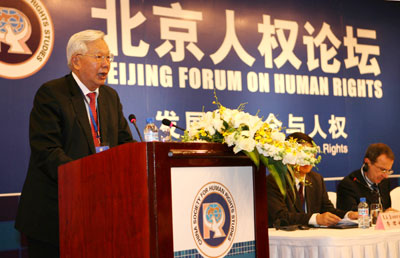 Luo Haocai, president of China Society for Human Rights Studies, speaks at the first Beijing Forum on Human Rights in Beijing April 21, 2008. [Xinhua]
Luo Haocai

President of the China Society for Human Rights Studies
April 21, 2008
Distinguished guests, dear colleagues, ladies and gentlemen,
Let me start by extending my heartfelt thanks and welcome to you for attending the Beijing Forum on Human Rights that opens today on behalf of its organizer, the China Society for Human Rights Studies.
This year marks the 60th anniversary of the adoption of the Universal Declaration of Human Rights, the first UN document specializing in the human rights issue. As an influential historical document, it has played a positive role in imbuing people the world over with the ideal of human rights and guiding and promoting the development of human rights across the world. Inspired by the Universal Declaration of Human Rights, the international human rights cause has made great strides over the past six decades. The content of human rights also has been enriched. Development and security have gained increasing prominence in human rights since the beginning of the 21st century.
The theme of this forum is "Development, Security and Human Rights." The right to development is an inalienable human right. Every person and every country have the right to pursue development and enjoy its fruits. Today, dozens of least developed countries have yet to join the global development process; more than 1 billion people suffer persistent starvation and poverty; and 11 million children die before the age of five and 3 million people die of AIDS every year. For these people, the right to development is of primary importance. Development is the central agenda for the overwhelming majority of developing countries and the biggest human rights problem facing the world today. That's because development lays the groundwork for the full realization of human rights. To advance other human rights, we should first of all realize the right to development, eliminate starvation and poverty and provide basic health care services. The worth, dignity and freedom of the human person cannot be realized in a state of starvation and poverty.
Likewise, security is also a fundamental human right. Security is a state of existence free from fear. Everyone has the right to live peacefully and safely. Threats to peace and security come not only from international wars and conflicts but from domestic violence, organized crimes, terrorism and weapons of mass destruction. Poverty, deadly infectious diseases and environmental degradation also severely threaten people's security. It has long been a shared aspiration and a human rights objective sought by the international community to eliminate all these threats and safeguard peace and security. The right to security lays the groundwork for the realization of other human rights. Because fear limits the scope of freedom, society can offer individuals more freedoms under the conditions of peace and security. Development, security and human rights are closely related and mutually reinforcing. Without development, we cannot enjoy security. Without security, we cannot enjoy development. If human rights are not respected, we can enjoy neither security nor development.
Ladies and gentlemen,
This year marks the 30th anniversary of China's adoption of its reform and opening-up policy. Thirty years ago, the Chinese set about carrying out economic reforms at home and opening up their country to the outside world under the leadership of Mr. Deng Xiaoping. Over these years, China has not only scored remarkable achievements in economic development but also made great progress in human rights. Chinese people's civil and political rights have been fully protected. Under the system of people's congresses, they extensively participate in the political life, fully exercise the right to know, the right of oversight and the right to vote and stand for election and directly exercise the right of democratic election, democratic decision making, democratic management and democratic oversight in self-governed grassroots mass organizations in urban and rural areas.
Economic, social and cultural rights have been advanced in China. China has made monumental progress in eliminating poverty and improving the basic living standards of people in impoverished regions, efforts that have been highly recognized by the international community. It reduced the number of inadequately fed and clad poor people in its rural areas from 250 million in 1978 to 14.79 million in 2007. Its GDP has increased by about 9 percent annually on average in the past three decades, enabling the living standards of Chinese people to improve rapidly and making China a middle-income country.
Human rights protection in the judicial field has been improved. Despite the weak foundation, we have constructed the basic framework of a law-based socialist country and provided legal protection of human rights in a rather systematic manner. Chinese constitution has established "respecting and safeguarding human rights" as its important principle. China has adopted more than 800 laws and regulations and more than 7,500 regional laws and regulations. Many laws, such as the Property Law, the Law on State Compensation and the Administrative License Law, give protection to human rights. China also has enshrined the right to be presumed innocent until proven guilty in its revised Criminal Procedure Law. The Supreme Court began to review and made final decisions on all death penalties in 2007. As a result, the number of death penalties has drastically declined. As China's characteristic open trial system, lawyer system, legal remedy system and legal aid system improve, the people's right to a fair trial has been protected.
Over the decades, China has persisted in implementing the system of regional ethnic autonomy and protecting the ethnic minorities' right to equally participate in the administration of state affairs and exercise autonomy over their ethnic affairs according to law. China attaches great importance to protecting the cultures and distinctive characters of the ethnic minorities. All ethnic minorities in China have the right to use and develop their own written and spoken languages, preserve their religious beliefs and customs and receive education in their own languages.
China's theoretical research on human rights has made headway. Since the 1990s, it has nurtured a specialized, multidisciplinary research team consisting of institutions of higher learning, research institutions and experts across the country with the China Society for Human Rights Studies at the center. Chinese academics have translated and published a large number of foreign human rights works, compiled systematic reference materials for human rights studies, published hundreds of books and thousands of academic papers on human rights and promoted the awareness of and education on human rights in society.
Despite the great progress China has made in its human rights cause, it still faces many problems and difficulties. China's political and economic systems are far from flawless. Its democracy and legal system have yet to be improved. Development between urban and rural areas and among different regions is still unbalanced. Problems exist in employment, education, heath care, housing, social welfare, income distribution, production safety and environmental protection. The Chinese Government does not shy away from the problems. Instead, it has publicly pledged to resolve these problems by promoting all-round economic and social development and improving its democracy and legal system. In contrast, some Western countries always practice double standards on the human rights issue. While criticizing China and other developing countries from time to time, they turn a blind eye to their own human rights problems.
Distinguished guests, ladies and gentlemen,
China's pioneering efforts in the past 30 years have seen the country embark on a road towards human rights progress with Chinese characteristics. Human rights protection in China obviously differs from those in Western countries. First, China believes that like other rights, human rights are not absolute. The rights a person enjoys should be commensurate with the obligations he shoulders. You cannot enjoy rights without shouldering obligations, nor do you shoulder obligations without enjoying rights. Your rights are the obligations of others, while your obligations are the rights of others. China stands against separating rights with obligations.
Second, China believes that human rights include not only civil and political rights but also economic, social and cultural rights. All these rights are related to each other and mutually reinforcing. Progress in civil and political rights is indispensable to the realization of economic, social and cultural rights. Without the development of civil and political rights to a certain degree, progress in economic, social and cultural rights is unimaginable. Human rights development in China provides compelling evidence for this view. It is universally acknowledged that China has dramatically raised Chinese people's living standards, strengthened its social security system and achieved all-round progress in heath care, education and culture over the past three decades. But the fact that almost every human right listed in the International Covenant on Civil and Political Rights has been greatly advanced in China in the same period is often neglected. Today, Chinese people enjoy unprecedented freedoms and fundamental human rights including the freedom of religious belief and the right to political participation. In China, civil and political rights develop as rapidly as economic, social and cultural rights.
Finally, China believes that human rights not only are the rights of individuals but should include collective human rights. Collective human rights and individual human rights are two sides of the same coin. There are no collective human rights to speak of if individual human rights are not protected. At the same time, collective human rights are the prerequisite and guarantee for the full realization of individual human rights. Individual human rights cannot be truly realized until progress is made in society as a whole. China sees great value in protecting both individual and collective human rights, a prime reason why it has achieved national stability, social harmony and freedom for its people.
Distinguished guests, ladies and gentlemen,
It is a common objective of all humanity to create a world where everyone is entitled to fundamental human rights. To realize this objective calls for strenuous efforts of the governments and people of all countries as well as close international cooperation. International cooperation is a good way to promote the progress of international human rights. China stands for strengthening exchanges and cooperation in the field of human rights to enhance mutual understanding, reduce disagreements and expand common ground. Different countries should tolerate, respect and learn from each other and treat each other equally in the spirit of jointly advancing the international human rights cause. China is ready to carry out even broader and deeper human rights exchanges and cooperation with other countries, draw on other countries' good experience and practices in developing human rights and redouble its efforts to promote its own human rights cause.
China always supports the purposes and principles of the UN Charter concerning the promotion and protection of human rights. It is also in favor of making human rights along with security and development the three pillars of the UN. China worked actively in the UN Commission on Human Rights, maintaining that the commission should take dialogue, instead of confrontation, as its working approach. It took an active part in creating the UN Human Rights Council and contributed to establishing the council's institutional framework with a constructive attitude. It has attended various UN conferences on human rights, taken part in deliberations and discussions on human rights issues, put forward its proposals in a highly responsible manner and made distinctive contributions to enriching the concept of international human rights, optimizing the approach to human rights protection and enhancing international cooperation in this field. China's efforts illustrate that the human rights cause is a lofty cause aimed at promoting peace, security and development for humanity. China will make its due contributions to the sound development of the world's human rights cause and join hands with people of all countries to create a bright future for this cause.
Ladies and gentlemen,
This year is China's Olympic year. The global torch relay of the Beijing Olympics is currently in full swing across the five continents. The Olympic flame will cover a distance of 97,000 km in 33 days outside the Chinese mainland. It will travel another 40,000 km or so in 97 days on the Chinese mainland before it lights the torch in China's National Stadium on August 8. During the Games, athletes from across the world will compete in China and jointly open a new chapter in Olympic history under the motto of "higher, swifter and stronger." Hosting the Olympics in Beijing is a century-old dream of the Chinese. Committed to the concepts of "green Olympics," "hi-tech Olympics" and "people's Olympics," China will make preparations for the Games in real earnest under the theme of "One World, One Dream." We believe that China will succeed in hosting distinctive, high-standard Olympic Games under the coordination of the International Olympic Committee and with the support of people from around the world.
Ladies and gentlemen,
We hope the Beijing Forum on Human Rights provides a platform for human rights experts at home and abroad to review the history of the world's human rights development, summarize and share experience in human rights protection and look into the future of human rights. We expect the forum to be held regularly and achieve even greater success in the future with the concerted support of Chinese and foreign human rights experts.
We wish you a healthy, pleasant and fruitful stay in Beijing.