Dazhou, a city in the eastern part of Southwest China's Sichuan Province, will make full use of its natural gas reserves to build Asia's largest sulfur producing base by 2010 when its annual sulfur output is expected to surpass 4 million tons.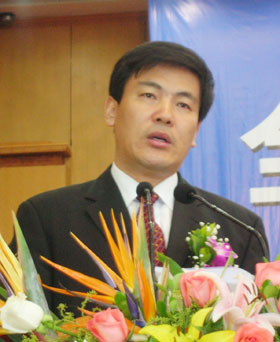 Luo Qiang, mayor of Dazhou, Sichuan Province, speaks at the National Sulfur-related Chemical Industrial Forum held in Dazhou Sunday, April 20, 2008. [photo by Mei Chao]
Located at the juncture of Sichuan, Hubei, Shaanxi provinces and Chongqing municipality, Dazhou, which has convenient transport facilities, boasts natural gas reserves of 3.8 trillion cubic metres, of which 660 billion cubic metres have been found.
"Dazhou, whose annual natural gas output is expected to reach 20 billion cubic meters in 2010, is one of the natural gas fields in China with the most promising development potential after the Tarim and Erdos natural gas fields," mayor Luo Qiang told chinadaily.com.cn in an exclusive interview.
Dazhou's natural gas has a high content of sulfur, and in some of its natural gas wells, the content of sulfureted hydrogen from which sulfur is produced is graded at over 17 percent.
In recent years, Dazhou, which is aimed at becoming West China's natural gas, energy and chemical industrial base, has attracted domestic and overseas firms interested in the city's rich natural gas resources.
Earlier this month, a Chinese subsidiary of the Chevron Corporation announced the opening of an office in Dazhou to support the US oil giant's local natural gas operations. The move came after a 30-year production sharing contract (PSC) signed between Chevron and PetroChina, the listed subsidiary of China National Petroleum Corporation (CNPC), the country's biggest oil and gas producer, in December.
When Jim Blackwell, Chevron Asia Pacific Exploration and Production Company president was in Dazhou, he  said the PSC became effective in February.
The contract for the development of a 1,969-square-kilometer natural gas field in the onshore Sichuan Basin, made the CNPC-Chevron cooperation the largest inland exploration project participated by a foreign company in China.
According to Chevron, the company and the CNPC expect to build two sour gas plants with a throughput capacity of approximately 740 million cubic feet of natural gas per day. The gas field has natural gas proven reserves of 175.97 billion cubic meters.
Because demand exceeds supply, sulfur prices have been steadily on the rise in the world market, according to Qi Yan, vice-chairwoman of China Sulfuric Acid Industry Association.
"In January last year, my company spent less than 1,000 yuan (US$143) importing one ton of sulfur while it paid 5,800 yuan (US$829) for the same amount of sulfur," said Tang Shenghui, an official with the Yongli Chemical Industrial Shareholding Co. Ltd in Zhuzhou, South China's Hunan Province, in the National Sulfur-related Chemical Industrial Forum.
China's annual sulfur output registers 1 million tons, while its domestic consumption exceeds 10 million tons. Each year, the country has to import about 9 million tons from abroad.
"Rising prices on the international sulfur market has an adverse effect on many industrial sectors in China, and the development of sulfur in Dazhou will be a significant boost to the country's sulfur-related chemical sectors," Qi said.
Sulfur is indispensable in producing phosphate fertilizer, rubber, pesticide, medicine, food additives and lubricating oil.
"Dazhou has built a natural gas, energy and chemical industrial park with an area of 30 square kilometers and the sulfur-related sector has become an important component of the park," Luo said.
"When construction of the desulfurizing plants invested by China Petroleum and Chemical Corporation and China National Petroleum Corporation is finished, Dazhou's annual sulfur output will surpass 4 million tons in 2010, accounting for half of the country's total," he added.
The plants include Puguang, Nanba and Tieshanpo.