GUANGZHOU -- A migrant worker sentenced to life in prison for withdrawing 175,000 yuan ($24,400) from a malfunctioning ATM had his term reduced to five years yesterday after a retrial.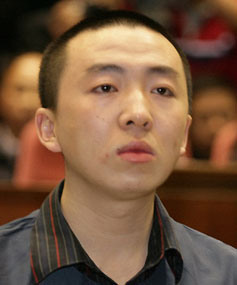 Xu Ting
Xu Ting, 24, a native of Linfen, Shanxi province, was also fined 20,000 yuan ($2,853) by the Guangzhou Intermediate People's Court and ordered to return the "illegally obtained" money.
Xu, then a security guard in Guangzhou, went to an ATM on April 21, 2006 to withdraw money. But due to a technical error, his account was only debited 1 yuan (14 cents) for every 1,000 yuan withdrawn. Xu subsequently withdrew 175,000 yuan in 171 transactions.
After his crime was discovered, he was on the run for a year before being caught and sentenced to life for theft on Nov 20 last year.
The case made national headlines and whipped up heated debate in the media and legal circles because many thought the punishment was too severe.
The Guangdong Provincial High People's Court then overturned the ruling in January and asked the lower court to hear the case again, saying the November ruling lacked evidence and some facts needed to be clarified.
A retrial was started on Feb 22 in which the prosecutors again charged Xu with stealing from a bank. Xu's lawyers maintained he was innocent.
Under the current criminal law, people who steal 100,000 yuan or more from a financial institution face a life sentence or death.
Gan Zhengpei, a presiding judge at the Intermediate People's Court of Guangzhou, said: "The case is very special since Xu stole the money partly because of the malfunctioning machine. That's why we finally gave a lighter sentence."
But "Xu's actions violated the rights of the bank, affected its financial security and had a negative effect on society," Gan told a news conference after announcing the verdict.
Xu said he would not appeal.
However, his father, Xu Cailiang, was not satisfied with the verdict.
"He is innocent He just made a silly mistake. So he should be set free."
Xu Ting's lawyer, Wu Yichuan, did not comment on the verdict, but said an appeal would be filed only if his client wished so.