LHASA - A 15-member diplomat delegation visited Lhasa, capital of the Tibet Autonomous Region, on Friday and Saturday, the first group of foreign diplomats to visit the plateau city after the March 14 riot.
Full coverage:
Lhasa Riots

Related readings:


Hu talks with Bush on Tibet


Students rap media 'hegemony'


Tibetans speak about experiences

Slideshow: Tibetan cultures thriving


Photos: Injured innocents


Readers comment on West media bias


Slideshow: March 14 Lhasa riots


381 rioters surrender to police
Their tight agenda included talking with a monk at the Jokhang Temple and meeting with Qiangba Puncog, chairman of the Tibet regional government.
On Saturday morning, the delegation came to the Jokhang Temple and talked with a monk of the temple.
The diplomats came from Beijing-based embassies and diplomatic missions of Brazil, Japan, Germany, Canada, European Union, Italy, Spain, Slovenia, Singapore, Tanzania, United Kingdom, Australia, France, Russia and the United States.
Upon arrival on Friday afternoon, the delegation went to the burnt Yishion Clothes Store on the Beijing Middle Road in downtown Lhasa where five young girls were burnt to death in the riot.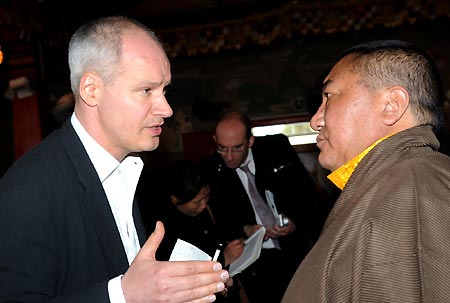 Peter Wilson (L), a British Counsellor to China, talks with Zhukang Tubdan Kezhub, a living Buddha from Tibet, vice chairman of the Tibet regional committee of the Chinese People's Political Consultative Conference (CPPCC), and vice-chairman of the Tibetan branch of the Buddhism Association of China, in Lhasa, capital of southwest China's Tibet Autonomous Region, March 29, 2008. [Xinhua]
The shop boss and a girl who survived the fire answered questions from the diplomats. The survived girl told in detail what had happened in the afternoon of March 14, as foreign diplomats required.
The delegation's buses passed through the Beijing Middle Road, Qingnian Road, North and East Linkuo roads on which some shops and institutions were smashed, looted and burnt by the rioters. Then they arrived at the Second Middle School of Lhasa which was partially burnt in the riot.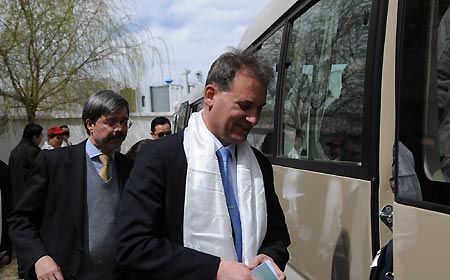 Foreign diplomats arrive in Lhasa, capital of southwest China's Tibet Autonomous Region, March 28, 2008. [Xinhua]
The schoolmaster talked about the whole process of how rioters burnt school buildings and their efforts to evacuate students and teachers.
George Manongi, minister of the Tanzanian embassy in China, said he felt very sad while seeing the burnt houses and wounded innocent people.
"Those 'peaceful protests' were in fact ended up with violence. No government will tolerate this," he said.