Zhou Liangluo, former head of Beijing's Haidian district, has been sentenced to death with a two-year reprieve for taking bribes totaling 16 million yuan ($2.2 million).
His wife Lu Xiaodan, who took 8 million yuan ($1.1 million) along with him, was sentenced to life imprisonment, the Beijing No 2 Intermediate People's Court announced on Friday.
Zhou took bribes from property developers, advertising companies and other businesses in 2005 and 2006 during his tenure as head of Haidian district - Beijing's booming university and high-tech hub.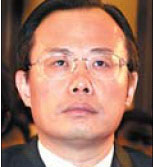 Zhou Liangluo
According to court investigations, Zhou was given a villa in 2005 worth about 2 million yuan ($285,000) by Dai Di, general manager of Beijing Yongtai Property Company, for help in a bidding process.
In 2006, Zhou used his influence to help another realtor, Li Ping, in a housing project called Zhuyuan (bamboo garden) and received a kickback of 2 million yuan.
More than 90 percent of the bribes Zhou received came from real-estate developers, according to court documents.
Zhou was detained on April 6 last year and reportedly investigated by the Central Commission for Disciplinary Inspection (CCDI) of the Communist Party of China Central Committee for alleged involvement in illegal land transactions and improperly approving land deals. Investigators transferred Zhou's case to the No 2 Intermediate People's Court in December 2007.
In November last year, Xing Zhiguo, former deputy head of the Haidian district government, was sentenced to 12 years for taking bribes of 2.4 million yuan ($342,000) and for hiding savings of 2 million yuan overseas.
Beijing prosecutors have convicted 102 bureau head-level officials charged with corruption including bribery taking over the past five years, according to a report in January.