The small city of Xinzheng was the birthplace of the Yellow Emperor and will be in the spotlight next month when it will hold an ancient worshipping ceremony.
This Central Chinese city, in Zhengzhou, capital of Henan Province, will present the "2008 Ancestor Worshipping Ceremony in the Birthplace of the Yellow Emperor" on April 8, announced Ding Shixian, head of Zhengzhou Municipal Committee's Propaganda Department at a news briefing in Beijing March 24.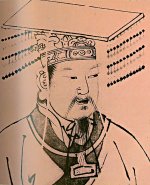 The Yellow Emperor
The event is expected to attract around 20,000 people, including six former Olympic champions, celebrities from Hong Kong, Macao and Taiwan as well as overseas Chinese representatives, Ding told the press.
He went on to say the third annual celebration will include fireworks, flower offerings, incense and ancient traditional dances. Participants will chant odes and pray.
The ritual aims to bring more awareness to the culture around the Yellow Emperor and bring Han Chinese together, said Ding.
Yellow Emperor (Huang Di), who was the first sovereign of civilized China, is recognized as a common ancestor of all Han Chinese. The tradition of worshipping ancestors on the mythical leader's birthday, which is on March 3 according to the lunar calendar and falls on April 8 this year, dates back to the Spring and Autumn Period (BC770-BC476).
"More than a deity, the Yellow Emperor has become a cultural symbol connecting Chinese all over the world," said Ding, "The Yellow Emperor is the soul and root of the nation and just like what the legend says, the Yellow Emperor attains immortality."
As this year coincides with the Beijing Olympics, the theme of the ceremony is "Building a spiritual homeland and praying for the Beijing Olympics". The event includes former Olympic champions, holding an Olympics-themed sculpture exhibition and launching a riddle competition to increase people's knowledge of the Games.