The riots in Lhasa last Friday are the most serious incident in the region for decades. Local residents are still reeling from the aftershock, even as they try to pick up the pieces of their shattered lives. In the following documentary, we look back at the events to see how they've impacted the people in Tibet.
March 14: The Lhasa Riots
This is Lhasa, the capital of Tibet. On March 14th, rioters began a rampage, beating people, smashing businesses, looting and burning. Their actions jeopardized people's lives and property.
11 a.m., March 14
(Ramoche Temple, Lhasa)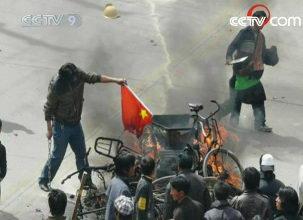 Violence scars Lhasa.
At eleven o'clock on the morning of March 14th, rioters gathered at the Ramoche Temple. On the temple roof, about a dozen monks stood and threw stones at police.
2 p.m., March 14
The situation escalated in the afternoon as more rioters gathered at the Ramoche Temple. Others, some armed with knives, began to arrive from the streets in downtown Lhasa.
As the riot intensified, a group of people tipped over a police wagon, and then flipped a nearby car.
An amateur cameraman recorded the scene as members of the mob stopped a motorcycle on the road and bludgeoned the rider's head with rocks. As the violence intensified, some people caught up in the riot suffered severe injuries. This innocent man was blinded in the right eye, and his left ear was cut off.