Engineers in Chongqing Municipality in southwestern China ignited the first of a series of planned blasts on a gigantic rock reef on Monday, in an effort to clear an area for a future shipping channel on the Yangtze River, the Chongqing Morning Post reported.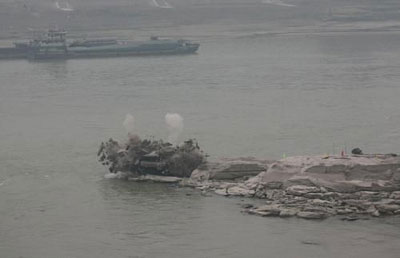 Engineers in Chongqing begin a blast project to destroy a giant rock reef blocking the Yangtze waterway on 5:08 p.m. Monday, February 18, 2008. [CRI] 
The 80-meter wide rock reef stretches for 120 meters alongside the Chaotianmen Dock, Chongqing's water gateway.
Engineers detonated the first blast, which lasted for less than a second, at 5:08 p.m. Monday afternoon. A total of 27.6 kilograms of dynamite were used during the blast, which was composed of 36 minor blasts.
Engineers from the Chongqing branch of the Yangtze River Waterway Bureau said the presence of the rock reef could result in water turbulence that affects safe shipping, posing a threat to the heavy ships (those with displacements of over 10,000 tons) that will sail to Chongqing in the future.
The demolition of the rock reef will be carried out bit by bit, to avoid possible water pollution caused by the dynamite and maintain safety on the shipping channel. The whole demolition process will last until August.
Some netizens in Chongqing have been calling for the cancellation of the reef-clearing program, on the grounds that the giant rock is tied to an ancient legend and should be protected. The Chongqing branch of the Yangtze River Waterway Bureau said studies of archeologists have proven the legend to be false, and the rock has no historical or cultural value.