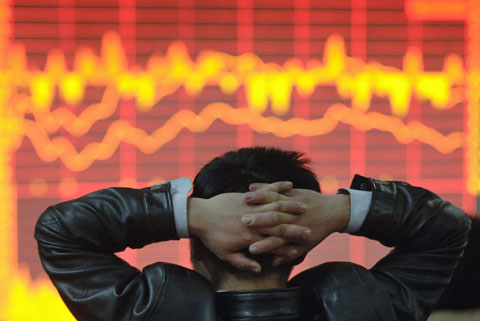 A man is seen in front of an electronic board showing stock information at a brokerage house in Hefei, Anhui province, February 13, 2008. China's stock market fell sharply and turnover shrank on Wednesday as trade resumed after week-long Lunar New Year holidays, during which overseas markets were hit hard by the threat of a US recession. [Agencies]  
Chinese stocks started the Lunar New Year with a drop on Wednesday, as investors unload blue chips amid a global sell-off and tightening concerns.
The benchmark Shanghai Composite Index fell 108.98 points, or 2.37 percent, to close at 4,490.72 points. The Shenzhen Component Index dropped 2.12 percent to 16,502.44.
Related readings:



 Stock market fundamentals 'still strong'


 China ends freeze on new stock funds


 Stock markets see another 'black Monday'


 Asian stocks sink after Dow plunges
Equity markets on the mainland were closed from February 6 for the Spring Festival and resumed trading on Wednesday. During the one-week recess, other markets in the world witnessed big falls, with major indices in the United States dropping more than four percent last week because of persistent recession worries.
The Shanghai and Shenzhen bourses were playing catch-up, analysts said. They expect the market to remain weak in the coming days, as investor sentiment is vulnerable to the impact of other equity markets.
Worries over possible tightening measures also weighed on investors' concerns. The Consumer Price Index (CPI) may surge above seven percent in January, analysts said, breaching the previous 10-year-high of 6.9 percent in November, as food prices rocketed due to the recent snowstorms, which hit more than half the country.
Economists have been expecting the government to the ease monetary tightening to prevent a sharp slowdown in the economy due to the fallout from a possible global recession and the snowstorm.
However, rapid inflation might force the central bank to balk at easing credit, analysts said. It might even raise interest rates and bank reserve requirement further to keep inflation in check.
Adding to investors' worries, the lock-up period for more than 1 billion shares in more than 30 companies expired on Wednesday.
The trading volume shrank to less than 90 billion yuan on Wednesday, indicating investors preferred to sit on the sidelines before the market warms up.
Blue chips led Wednesday's fall. PetroChina fell 3.2 percent to end at 23.92 yuan per share, a loss of over 50 percent from the peak of 48.62 yuan hit on its Shanghai debut in November.
Investors dumped insurance shares out of fears over more claims for damages caused by the snowstorm. China's insurers have paid more than 1 billion yuan for the effects of the blizzard, official figures showed.
At the news, Ping An Insurance dived 7.13 percent to 72.92 yuan, followed by a 5.55 percent drop in China Life to 40.2 yuan.
Banking shares were also weak, with Industrial and Commercial Bank of China falling 2.54 percent to 6.91 yuan.