The mainland stock market suffered heavy losses on Monday, failing to recover from last week's tumble, as the major indices in Shanghai and Shenzhen lost more than six percent in panic selling.
The benchmark Shanghai Composite Index opened 42 points lower at 4,720.56, and then never returned to its opening value. Led by the once popular blue chips and heavy-weight financial sector, the index slump to the day's low of 4,409.08 around 1:30 pm. Although bargaining funds later drove the market back a little, panic selling dominated the market in the last trading hour and pushed the index down by close to 4,419.29, 342 points or 7.19 percent lower than Friday's close.
Shanghai Composite Index
Source: sina.com.cn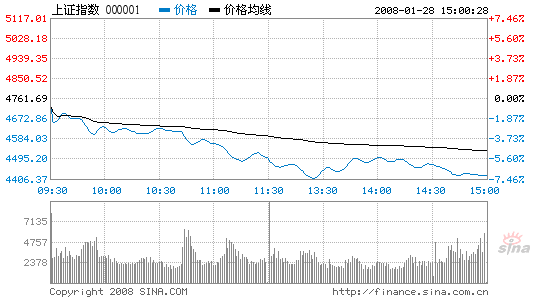 The Shenzhen Component Index, covering major stocks on the smaller Shenzhen market, also fell 6.45 percent to 16,177 points.
Turnover of the two markets shrank to 170 billion yuan as losers far outnumbered winners, 1,323 to 74. More than 400 stocks closed down at the maximum daily limit of ten percent.
Blue chips were among the worst performers today, as heavyweight PetroChina dropped by another 8.11 percent to 24.02 yuan, only half of its record intial public offering price last November.
Financial sectors lost even more as investors' confidence in the industry may be overshadowed by recent losses of Western financial tycoons and international ripple effects. China Life and CITIC Securities both bottomed out at the daily limit, while Ping'an Insurance has lost 20 percent within a week since it declared a controversial share offer plan last Monday.
Shenzhen Component Index
Source: sina.com.cn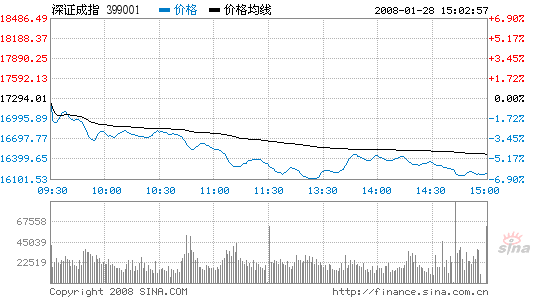 In contrast, stock derivates came alive today, with warrants betting on drops for target stocks in high demand. Nanhang JTP1, a put warrant issued by Southern Airlines, surged a spectacular 60 percent. Hunan Valin Steel's warrant (Valin JTP1) reaped similar gains although the Shenzhen bourse suspended its trading for several times citing "abnormal fluctuations." Market analysts have pointed out that so far, most put warrant prices are still much higher than their internal value, and excessive speculation can lead to unexpected losses.
The mainland stock performance today was echoed by neighboring markets. The benchmark Hong Kong Hang Seng Index slumped 4.25 percent to 24,053 points. Particularly, the Hang Seng China Enterprise Index went deeper by 4.97 percent. Nikkei 225 Index also closed 3.97 percent down.
Market watchers said today's loss is a continuation of last week's retreat. The Shanghai Composite Index lost 8.08 percent last week, the heaviest weekly loss in ten years. Total capitalization of the A-share market shrank nearly four trillion yuan. Major indicator stocks such as ICBC and PetroChina dropped more than ten percent within the week.
With this gloomy Monday, it is reasonable to say that the selling rush has not ended so far, and investors will certainly be very cautious when making investment decisions.