SHENZHEN: Gu Chujun, the former chairman of refrigerator giant Guangdong Kelon Electrical Holdings, was yesterday jailed for 12 years and fined 6.8 million yuan ($945,000) for misappropriation, graft and other crimes, the China News Service reported.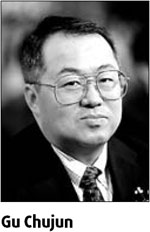 Gu was found guilty by the Foshan Intermediate People's Court in Guangdong province, of misstating registered capital and illegally disclosing important financial information, among other crimes.
However, the court said there was insufficient evidence to prove Gu had abused his position for personal gain, as charged by Foshan procurators.
The controversial entrepreneur, who founded refrigerator company Greencool in the early 1990s and acquired Kelon, China's biggest refrigerator-maker at the time, in late 2001, was detained at the end of July 2005.
Gu and eight senior executives of Greencool and Kelon were later arrested.
Judicial investigations showed Gu had asked a number of the defendants to generate fraudulent profits for Kelon between 2002 and 2004, by exaggerating losses incurred in 2001, hoarding goods and falsifying raw material sales to avoid the delisting of Kelon from the stock market.
The fraudulent financial reports caused serious losses for individual shareholders in the company as well as public investors, the court said.
Criminal investigations also found that Gu had embezzled a total of 313 million yuan.
As Gu has already been in jail for two years, he has just 10 years left to serve, the report said.
His lawyer told media he will appeal.
One of the eight other defendants in the case, Jiang Baojun, a former financial supervisor of Kelon who was accused of abusing his position for personal gain, was acquitted.
The other seven were sentenced to jail terms of between one and four years, the Xinhua News Agency reported yesterday.
Before his arrest, Gu built his business empire by controlling five listed companies: Greencool, Kelon, Hefei Meiling, Xiangyang Automobile Bearing and Yangzhou Yaxing Motor Coach.