BEIJING -- Chinese Premier Wen Jiabao on Wednesday visited passengers stranded at the railway station in the southern city of Guangzhou, saying the government will try its best to make sure they can go home for family reunion for the upcoming lunar new year.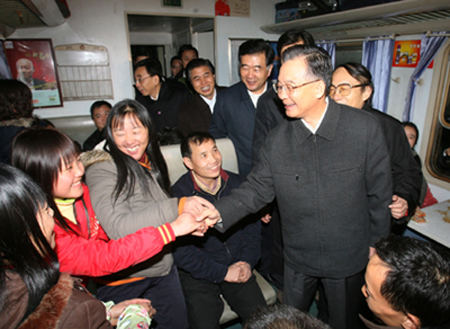 Chinese Premier Wen Jiabao shakes hands with stranded passengers on a train to Nanchang at Guangzhou Railway Station in Guangzhou, South China's Guangdong Province, January 30, 2008. [Xinhua]
Speaking through a megaphone to a large crowd, Wen told passengers: "You all want to go home and I completely understand how you feel. We are now fixing the power grid. Once the power supply resumes, trains will be running.
Wen visited stranded passengers in Changsha, capital of central China's Hunan Province, before arriving in Guangzhou.
Heavy snow and icy rain since January 10 have caused traffic standstill at a peak season when millions of Chinese are on their way home to celebrate the Spring Festival with their families.
"All the works are proceeding expeditiously and orderly. The number of trains that resume services is increasing every day," Wen told the passengers in Guangzhou.
"We are working hard to make sure you all can go home soon and be with your family for the holiday," he said.
By Wednesday about 217,000 passengers had been stranded in Guangzhou because a southern section of the Beijing-Guangzhou rail line, a north-south trunk railway, has been paralyzed by heavy snow in Hunan Province, where power transmission facilities have been knocked out.
Many trains were delayed and traffic on the Beijing-Guangzhou line is unlikely to return to normal within the next three to five days as snow is persisting in central China.