Elderly inventor unveils trash-gathering boat
(China Daily)
Updated: 2008-01-31 09:37
After 18 years of work, Rao Guangde, 70, recently presented a special boat capable of automatically collecting rubbish on rivers in Shixing county, Guangdong province.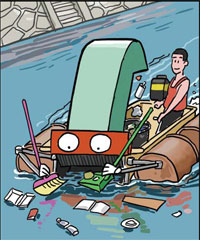 The retired mechanical engineer has dubbed his invention "the rubbish cleaning boat".
He said the craft, which has two arms that gather rubbish off the surface of water, would be of much use in Guangdong, which has an advanced river network.
Rao started work on the invention in 1989 after being laid off.
(Yangcheng Evening News)