Two million bicycle thefts were reported last year, down 50 percent on 2006, the Ministry of Public Security said yesterday.
During a joint campaign launched by six ministries between March and November of last year, more than 3,700 thefts were reported every day across the country, officials said.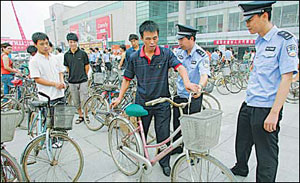 Police officers in Xi'an, Shaanxi province, reunite people with their "stolen" bicycles in August in this file photo. [China Daily] 
Over the same period, more than 343,000 bicycle thieves were arrested and punished, and 1.41 million bicycles, including 376,000 electric ones, were recovered.
Nearly a million stolen bikes have been returned to the public.
In Beijing, the number of daily theft cases has decreased by 34 percent compared with the number reported before the campaign.
"The campaign has achieved obvious results and dealt a heavy blow to the thieves," Public Security Minister Meng Jianzhu said at an award ceremony yesterday in Beijing, which honored 385 groups and 772 individuals for their contributions to the cause.
"We have started to established a long-term mechanism for bicycle safety management," Meng said.
Known by many as the Kingdom of Bicycles, China is reportedly famous not just for its number of bicycles - about 460 million - but also for its widespread bicycle theft.
About 4 million bicycles are reported missing every year.
It is believed the lax administration of bicycle traders, especially the secondhand market, is the major cause.
Since March, the ministries have helped improved bike safety in various areas, including production, supply, sales and storage, Meng said.
Ma Weiya from the Ministry of Public Security said the war against theft will go on as long as Chinese people continue to ride bicycles.