China's economy will experience only a moderate slowdown in 2008 because its diversified exports and strong domestic demand will help it stay resilient amid a weakening world economy, economists said yesterday.
"We expect the Chinese economy to grow by 10 percent this year despite a US-led global economic slowdown," said Liang Hong, an economist with Goldman Sachs in Hong Kong. "Strong domestic demand, especially investment growth, is expected to sustain the overall GDP growth, though the export growth is set to slow down."
China has an average GDP growth of 10.6 percent over the past five years, thanks to its blistering export growth and strong investment. Yet the worsening US subprime crisis is stoking concerns that the world's fourth-largest economy may loose its steam when American consumers tighten their purse strings against Chinese goods.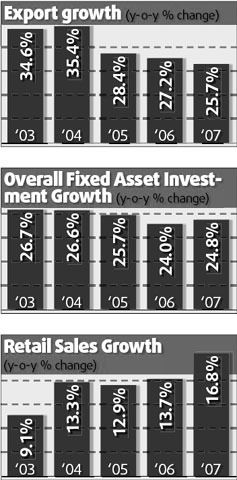 China's GDP was never that "coupled" with US growth, Bank of America economist Wang Tao said, because its exports have been diversified in destination and products.
A Standard Charted Bank report says the US now accounts for only about 16 percent of China's exports, compared to 25 percent in 2001. Booming emerging markets, including Latin America and Africa, now buy about 37 percent of the steel, clothes and electronics it exports.
Domestic manufacturers' rising competitiveness may help them expand in the global market, thanks to enhanced technological innovation and rising labor productivity. Machinery now comprises more than half of China's exports, compared to less than one-third in the early 1990s.
"The slowdown in economic growth will reduce overall imports by the US but increase its demand for low-end and inexpensive goods," said Mei Xinyu, a researcher at the Chinese Academy of International Trade and Economic Cooperation, a think tank affiliated to the Ministry of Commerce.
In fact, China's exports to the US are likely to increase, he said, citing the fact that they have increased steadily even though the US economy began slowing from late 2000.
China's overall exports may slow down, but experts say strong domestic demand will continue to play a more important role in propelling the economy.
"Strong domestic demand appears to have become a good cushion against slower external demand," said Gong Fangxiong, an economist with Morgan Chase Bank, Hong Kong. "And in 2008, we look to another year of solid economic growth at 10.5 percent.
"A significant external slowdown would reduce the need for more aggressive tightening of China's macroeconomic policies, creating a healthier environment that would foster the needed shift toward more sustainable, domestically-driven growth."
Last year, China's central bank raised the interest rate six times, and ordered local lenders to set aside more cash in deposit on 10 occasions to curb inflation and prevent overheating.
The central government implemented a series of administrative measures, too, to cool down the economy. These steps have proved quite effective in reducing investment and production, with the GDP growth starting to decline from a record 11.9 percent in the second quarter of last year to 11.2 percent in the last.
"The government (however) could tolerate slightly faster investment growth by relaxing its macro control slightly because of the US downturn," Citigroup China economist Shen Minggao said.
Surging fiscal revenue will give the government great leeway to increase public spending when necessary, analysts said. And soaring corporate profits over the past years will give a strong incentive to domestic enterprises to build new plants and research facilities.
According to the National Statistics Bureau, the government's fiscal revenue was 5 trillion yuan ($691 billion) last year, compared to 1.89 trillion yuan ($261 billion) in 2002.
"The global downturn should help the Chinese economy to cool off without the government having to take aggressive tightening measures by resorting to blunt policy instruments," said Huang Qing, of Morgan Stanley.
Besides, domestic consumption, which the government has tried to boost, is expected to remain robust after the country's retail sales growth hit an eight-year high last year.
"At the same time, domestic market-oriented sectors, especially those exposed to capture spending supported by the government, should do relatively well as the government raises its spending to shore up domestic demand, offsetting external demand," Huang said.
Rising consumer prices, however, will remain a big concern for the government because food and oil prices, the main drivers of inflation, are not expected to ease this year, analysts said.
Achievements of past five years
Stable and brisk growth. The annual GDP growth averaged 10.6 percent, with fluctuation of less than 1 percentage point.
Record number of jobs created. The country created 51 million employment opportunities.
Rising economic benefits. The country's fiscal revenue climbed to 5 trillion yuan ($691 billion) last year, compared with 1.89 trillion yuan ($261 billion) in 2002. Large-scale firms' accumulated total profit over the past five years rose to 7.86 trillion yuan ($1.09 trillion). Last year alone it was 2.2-trillion-yuan ($304 billion).
Rapid income growth of urban and rural residents. The disposable income of urban residents grew at an annual average of 9.8 percent to reach 13,786 yuan ($1,900) last year. Rural residents' net income rose, too, to 4,140 yuan ($572) in 2007, increasing 6.8 percent a year.
Notable progress in overall national strength. The total installed electricity generating capacity increased 350 million kW, and 28,000 km of highways were built.