XI'AN: Many old houses, like the one 83-year-old Jia Yufan has lived in all his life, will be repaired under a plan to preserve this ancient city's residential heritage.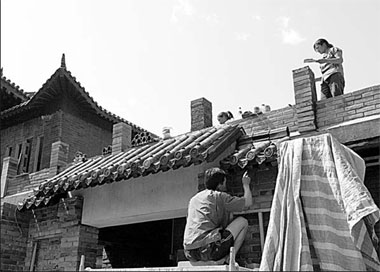 Workers repair the roof of an old house in Xi'an, Shaanxi province, in this file photo. Jun Ying
The local government of the Shaanxi provincial capital will spend an extra 50 million yuan ($6.9 million) to carry out the work over the next few years, on top of the 70 million yuan it has already spent on restoration work over the past three years.
Jia, who was born in the house in which he still lives, said he was pleased to learn his 1910-built home had been earmarked for repair.
"I was worried when I saw the old houses my neighbors lived in being pulled down because of all the urban development," Jia said.
"Compared with the modern buildings, my house is not so convenient because there is no heating system, gas supply pipe or toilet, but I want to live in it because it not only has heritage value, but is also a glorious symbol of my family."
Xi'an is an ancient metropolis and was the national capital during 13 dynasties.
It is home to many famous landmarks including the Dayan Pagoda from the Tang Dynasty (AD618-907), and the City Wall and Bell Tower from the Ming Dynasty (1368-1644).
Zheng Yulin, director of the Xi'an heritage and garden administration bureau, said: "We will make continuous efforts to better protect the city's heritage.
"Besides the world-renowned buildings, there are many old residential houses that were built during the late Qing Dynasty (1644-1911).
"The old homes are made with brick and wood and most of them are in poor condition," he said.
In 2006, the local government listed 85 old houses for protection.
A small number of them date back to the Ming Dynasty, but most were built during the Qing Dynasty and in the decades that followed.
Different from a Beijing siheyuan (a traditional courtyard house), which has a single courtyard, a Xi'an siheyuan has two or three yards in the shape of a large rectangle, Zheng said.
The remaining old dwellings feature exquisite carvings and ornate decorations, he said.
He Hongxing, director of the Xi'an city planning bureau, said it was pity that some old houses built in the late Qing Dynasty had been demolished during the urban construction boom of the 1990s.
"As a historical and cultural city, the protection of these old dwellings will ensure Xi'an continue to be a place where vivid and colorful stories are told through its buildings," He said.
Wu Chun, director of the residential houses protection office under the city's heritage and garden administration bureau, said that under the restoration plan, the old houses will be supplied with running water, power, heating, gas and toilets.
(China Daily 01/18/2008 page4)