LONDON - British Prime Minister Gordon Brown hosted on Monday a tea party specially for the Chinese community representatives in his office in the downtown London.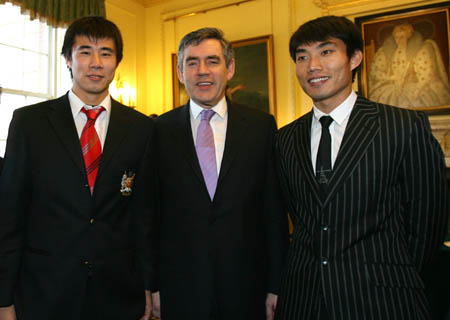 Britain's Prime Minister Gordon Brown (C) poses for photographers with Chinese soccer players Dong Fangzhuo (L) of Manchester United and Zheng Zhi of Charlton Athletic, at a tea party specially for the Chinese community representatives in his office at 10 Downing Street, London Jan. 14, 2008. [Xinhua] 
During the party, the first he hosted for the Chinese community, Brown told the representatives that he is looking forward to his forthcoming visit to China "to see the changes taking place in China."
Brown described the British-Chinese relationship "very strong" and expressed his hope that his visit would further strengthen the bilateral relations between Britain and China.
He said he was glad to learn that areas of cooperation and exchanges between the two countries are widening. "So many students from China are coming to Britain, forming the biggest number than any other countries and Chinese tourists to Britain are also the largest in number," he said.
Referring to "China now" and "China in London" to be launched soon in Britain, the prime minister said "These are going to be big events" in cultural exchanges between the two countries.
He said that during his visit, he will not only meet Chinese leaders, but also meet businessmen, students to hear from them the great changes in their lives.
"I want to build stronger relationship with China," the prime minister told Chinese reporters at the party.
More than 20 representatives including Chinese businessmen, sportsmen and students have been invited to attend the tea party during which Brown had free chats with them to know their living, work and study in Britain.