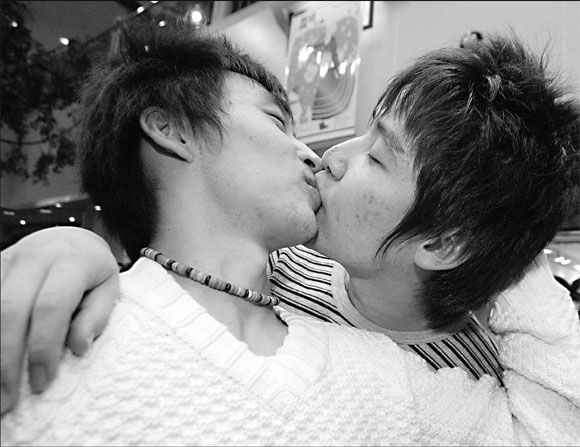 Two bold young men kiss each other during a kissing contest held by a Beijing department store on the Valentine's Day in 2006. Li Fangyu
Three homosexual Chinese tell of the challenge they face, and their hopes for a day when they will no longer be judged.
Name: Tong Ge
Age: 57
Occupation: Writer and independent researcher
Tong Ge was married to a woman for more than 20 years, and has raised a son.
But Tong is gay.
"If I could turn back time, I would never have married a woman," he sighs.
"Even though my wife has forgiven me, I cannot forgive myself, and feel guilty all the time."
Tong says he has been attracted to the same sex since he was a boy. The son of a rich family, Tong was sent to the countryside to learn from farmers during the "cultural revolution" (1966-76).
His best friend, a former classmate, was willing to follow him. No matter how tough the living conditions got, no matter how poor they were, they were always deeply attached to each other.
One day after both had been drinking, they had sex for the first time.
"It had never crossed our mind that we were gay, and also we had no idea how to define our behavior," Tong recalls.
Two years later, his friend was called to the city. It would be the darkest moment in Tong's life - having to say farewell to his first lover.
"It might sound silly nowadays," he says with a laugh. "But I have missed him a lot over the years."
At age 27, Tong went back to the city, where he was astonished to discover scores of secret places where gay men met at night, such as public parks and toilets.
According to Tong, the phenomenon emerged in the mid-1970s when the "cultural revolution" had yet to come to an end.
"The more you try to oppress sex, the more resistance will rise up," he explains.
He says that men rarely used condoms at the time. "They were not available in any shops. Only the birth control offices of Stated-owned companies had them, and of course it was impossible for us to ask," he says.
Tong declined to explain what drove him to tie the knot, except to say "in the past, it was right and proper to get married when people reached a certain age".
Tortured by his double life, Tong studied various medical books, trying to figure out what was wrong with him. Finding no answers, he decided that the only way he could live with himself was to confess to his wife.
"I thought she would be furious after I told her," he recalls. "However, she said that she had known it for a long time."
Tong was waiting for his wife to ask for a divorce, but she chose to stay with him. He says that despite their past difficulties, their relationship remains strong.
"A lot of Chinese gay men have had similar experiences," he says.
As an independent researcher, Tong has devoted himself to the academic study of homosexuality, not only from a social perspective, but also how to best combat AIDS.
"My goal is to make a general report on Chinese gay relationships," he says.