Qufu - Japanese Prime Minister Yasuo Fukuda left Jinan, capital of Shandong province, Sunday afternoon, wrapping up his four-day China tour, which was seen as a "herald of spring" for China-Japan ties.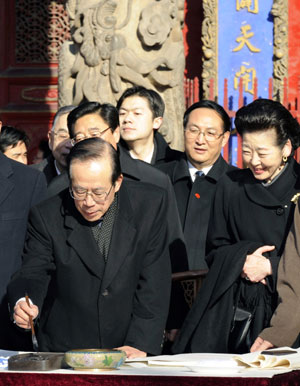 Japan's Prime Minister Yasuo Fukuda (front L), flanked by his wife Kiyoko, demonstrates his calligraphy skills during a visit to the former residence of Confucius in Qufu December 30, 2007. Fukuda concluded a four-day visit to China on Sunday with a stop at the legendary birthplace of Confucius. [Agencies] 
Vice Foreign Minister of China Wang Yi and Chinese Ambassador to Japan Cui Tiankai as well as local officials in Shandong Province saw him off at the airport.
"My visit to China this time is very meaningful. I had in-depth discussions with Chinese leaders," Fukuda said Sunday morning after visiting the Temple of Confucius in Qufu, the hometown of the ancient Chinese philosopher.
Fukuda and his wife Kiyoko bowed in front of a statue of the great sage, a UNESCO World Heritage site in Qufu, after they arrived at the temple.
During their one-hour stay, they also visited the places where Confucius taught students some 2500 years ago, and watched a traditional ceremony performance commemorating the ancient philosopher.
Before leaving the temple, Fukuda signed four Chinese characters, "wen gu chuang xin", on a visitors' book, a coinage of the Prime Minister probably inspired by Confucius' teaching of "wen gu zhi xin" which calls people to gain new insights through reviewing old things.
Fukuda told reporters the visit to the hometown of Confucius left him "deep impression".
He said he hoped to use the visit as an opportunity to deepen understanding and expand exchanges between the two peoples, and further promote the strategic, mutually-beneficial ties between Japan and China.
Fukuda's visit to the hometown of Confucius demonstrated "the common cultural background between the Chinese people and Japanese people," said Mitsuo Sakaba, press secretary of Japanese foreign minister.
Confucius is a philosopher admired by both peoples in China and Japan.The works of Confucius, especially the Analects of Confucius, a book compiling his life-long teachings, are quite popular in Japan.
Fukuda is the first incumbent Japanese prime minister that visited the hometown of Confucius. Former Japanese Prime Minister Tomiichi Murayama who served in the position in mid-1990, visited Qufu in 2002.
The Temple of Confucius in Qufu, first built in 478 BC, is the prototype of some 2,000 Confucian temples all over the world, including Japan, the Republic of Korea, the United States, Singapore and Vietnam.
Fukuda arrived in Shandong province on Saturday afternoon from Tianjin, a port city neighbouring Beijing, where he visited a factory of Tianjin FAW Toyota Motor Co. Ltd.
Fukuda's trip, which is taking place three months after he took office, is another important step to boost bilateral ties, following the "ice-breaking" visit by then Japanese Prime Minister Shinzo Abe in October last year and Chinese Premier Wen Jiabao's "ice-thawing" trip to Japan in April.
It has been the third overseas trip of Fukuda since he took office three months ago. Prior to his China trip, he visited the United States and Singapore.