ISLAMABAD - The son of the slain Chairperson of Pakistan People's Party (PPP) Benazir Bhutto Sunday said he had been elected as new Chairman of the party.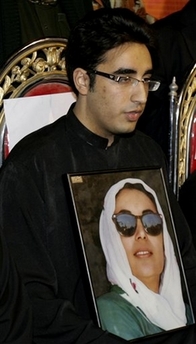 Bilawal Zardari, son of Pakistan's slain former prime minister Benazir Bhutto, holds a picture of his mother as he addresses a news conference in Naudero, near Larkana, Pakistan on Sunday, Dec. 30, 2007. Bilawal has been appointed Chairman of Bhutto's Pakistan People's party. [Agencies]
Bilawal made the remarks at a news conference after a central executive committee (CEC) meeting of the PPP in Naudero in the southern Sindh province.
Bilawal said the PPP would still pursue democracy in Pakistan in the future. "My mother always said democracy is the best revenge," Bilawal said.
A senior leader of the PPP Amin Fahim said at the news conference Bhutto had left a letter of will in which she nominated her husband Asif Zardari as chairman. However, Zardari nominated Bilawal as the successor at the CEC meeting.
Zardari disclosed that his children had decided to add their mother Bhutto's family name to their names.
The PPP would contact United Nations for international probe into Bhutto's assassination, he said.
Bilawal, born in September 1988, is the only son of Bhutto. Bilawal attended Rashid School For Boys in Dubai, where he was Vice President of the student council. He is currently studying at Oxford University.
Bilawal thanked the CEC for its trust on him and said he would continue his study.
Some leaders of the PPP earlier said that Bilawal was too young to lead the party. The CEC meeting still elected Bilawal as chairman and Zardari co-chairman. A 9-member advisory committee has also been set up to run affairs of the party.