Islamabad - The chief of Pakistan Muslim League-Nawaz (PML-N), Mian Nawaz Sharif, visited the home town of former Prime Minister Benazir Bhutto to condole her death on Saturday.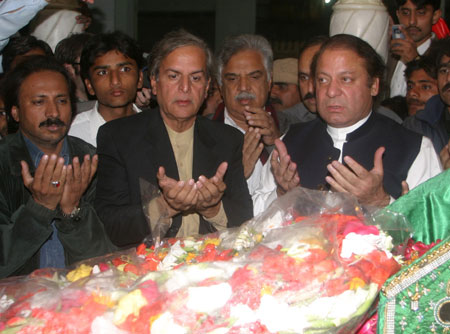 Former Pakistan prime minister Nawaz Sharif (R) prays at the grave of assassinated opposition leader Benazir Bhutto in Garhi Khuda Bakhsh near Naudero December 29, 2007. [Agencies] 
Leading a 40-member delegation, Sharif visited Bhutto's grave at Garhi Khuda Bakhsh in the southern Sindh province, said the report.
Bhutto was killed in a suicide attack on Thursday after addressing an election rally in the garrison city of Rawalpindi. The suicide bomber launched the attack when Bhutto was leaving the venue of the public meeting.
PML-N spokesman Siddiqul Farooq said that Sharif's delegation was aimed at showing unity with the people of Sindh.
Sharif has already announced boycott of the Jan. 8 general elections as protest against the assassination of Bhutto.
Bhutto's son Bilawal is expected to announce the "will" of his mother about the future of Pakistan People's Party (PPP) including the new leader on Sunday when the leaders of the PPP will meet to decide whether or not to take part in the general elections.