Liu, a resident of Xi'an, capital of Northwest China's Shaanxi Province, called police Saturday night after coming home to find a stranger wedged in her window.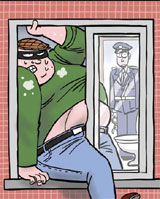 Police immediately suspected the stuck man of trying to break into Liu's home. They freed the man from the window and took him to the police station.
The man, surnamed Meng, told police that he is 26 years old and a migrant worker from Hubei Province in Central China. He said he could no longer bear working manual labor and instead learned how to pry open doors and windows so he could break into houses.
"I am too fat, otherwise you would not have caught me," Meng told police.
(Sanqin Daily)