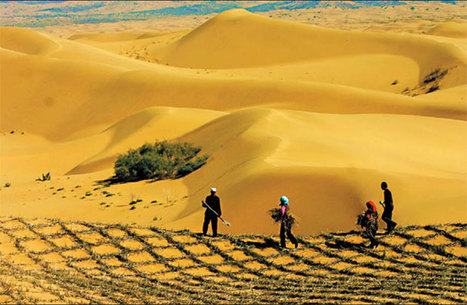 People plant grass in Baijitan in Ningxia Hui Autonomous Region to prevent the desert from spreading further. Desertification has been threatening many places like this in western China, and non-Communist parties have helped the government launch a series of programs to fight the trend. [China Daily]
When lakes in western China's Qinghai Province began drying up and the deserts started expanding in the 1990s, local government environmental protection departments were stumped on a course of action.
The Jiu San Society, one of China's eight non-Communist political parties, conducted field research on encroaching desert areas and subsequently devised a grand ecological project that began to reverse environmental deterioration in 2005.
Related readings:


 The faces, old and new, in non-Communist parties


 Hu vows closer co-op with non-Communist parties


 The new, private face of the Communist Party


 Party Constitution-Relationship Between the Party and the Communist Youth League


 Non-Communist member appointed new minister
The plan, for which the central treasury allocated 7.5 billion yuan ($1.02 billion), sought to protect the source area of China's three most famed rivers - the Yangtze, the Yellow River and the Lancang River - in northwest Qinghai Province.
This important contribution is a prime example of China's multi-party cooperation system in action. The system is benefiting from increasing participation of an energetic new breed of non-Communist party members in fields ranging from environmental protection to cultural preservation.
The non-Communist parties represent specific interest groups, reflect complaints and suggestions from all walks of life and serve as a mode of supervision of the CPC.
Since the 17th National Congress of the Communist Party of China (CPC) in October, the country's eight non-Communist parties have held their national congresses and elected a breed of younger leaders determined to play an even greater role in the country's development. Most of the newly elected chairs have communicated with the people through online interviews, and responded to a flurry of questions on subjects ranging from their personal lives to the history of their parties and the role they hope to play in State affairs.
"Many non-Communist Party leaders have used the Internet as a platform to deepen the understanding between the people and non-Communist parties," says You Luoping, vice- president of the Central Institute of Socialism.
Another party, the China Association for Promoting Democracy (CAPD), comprises mainly senior and leading intellectuals in the fields of culture, education and publishing. In an online interview, CAPD central committee chairwoman Yan Junqi says her party has submitted many studies and proposals on possible reforms in the publishing industry and education, and that they have influenced government policy-making.