YICHANG - Local police and forestry authorities are investigating a rare Siberian tiger slaughter case at a zoo in Central China's Hubei Province, promising a reward to clew providers.
A female Siberian tiger was found killed Thursday morning at the Three Gorges Forest Wild Animal World, and its head, legs and skin were missing, Du Zhihu, deputy director of the Forestry Bureau of Yichang City, told Xinhua Saturday afternoon.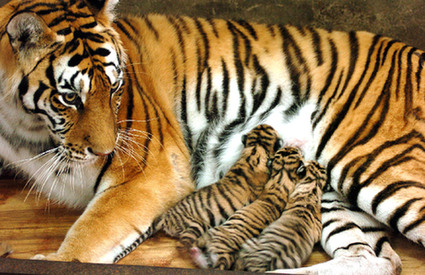 A female Siberian tiger with its cubs [file]
An investigation task force has been set up to ferret out the slaughter or slaughterers, and the case has been reported to the state forestry police authorities, according to Zhou Liping, the forestry police chief of Yichang, where the zoo is located.
Zhou did not reveal details of the investigation findings and how much money a clew provider may get.
However, media reports quoted an insider with the investigation as saying that the locks of the tiger cage and the door of the tiger room were broken and the police also found four self-made anesthetic rifles near the cage.
"It is highly possible that the killer or killers broke into the room, anesthetized the tiger, opened the cage and then dragged the animal out of the room and butchered it," said the unnamed insider.
"This was cruel and professional slaughter," said the insider, citing the tiger's skin was peeled off as a whole and the limbs were chopped off from the knees.
Related readings:


 Siberian tiger killed by fellow beasts

 Siberian Tiger population added


 Four Siberian tiger cubs born in Heilongjiang


 Mother Siberian tiger set to birth twin lion-tigers
According to Du Zhihu, the remains of the tiger, aged between six and seven, was found by a zoo keeper who was cleaning the road at around 7:30 on Thursday.
The zoo immediately reported the case to the police and forestry authorities.
"The Siberian tiger is a key species under state protection and the criminals will be severely punished," said Liu Xinxian, head of the forestry bureau in Yichang.
According to China's law, killer of endangered and rare wild animals will be given at most above ten-year imprisonment.
Covering about 40 hectares in Yiling District of Yichang, the Three Gorges Forest Wild Animal World, some 14 km from the city center, opened to visitors in 2002. It is home to more than 100 species of wild animals including 16 Siberian tigers.
Siberian tigers, among the world's 10 most endangered species, mostly live in northeast China and the Far East area of Russia. Of the 400 estimated to live in the wild, only 10 to 17 live in China.
To protect the rare tigers from extinction, China established breeding bases in several provinces with the largest in Harbin, capital of northeastern Heilongjiang Province, which now has more than 800 Siberian tigers in captivity.