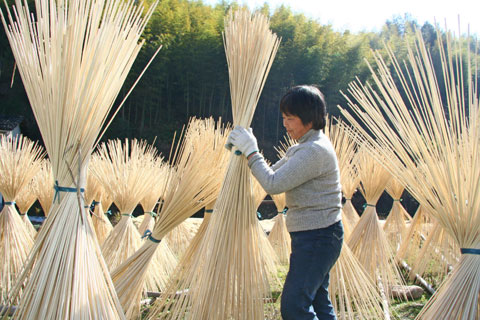 A farmer prepares to dry bamboo strips in Xiuning County, Anhui Province in this November 30, 2007 photo. The Ministry of Agriculture said the annual per-capita net income this year would likely to hit 4,000 yuan. [Xinhua]
BEIJING -- China concluded the annual central rural work conference on Sunday with a pledge to enhance rural infrastructure construction, promote stable development of agriculture and facilitate a sustained income growth for farmers next year.
The pledge should be carried out in 2008 and a certain period of time thereafter in accordance with the requirement of realizing integration of urban and rural economic and social development, according to the two-day meeting.
Efforts should be exerted to ensure supply of major agricultural products, settle problems concerning people's livelihood in rural areas and push forward the "new countryside" scheme, the meeting said.
The meeting required that a good job should be done in the following six respects at present and a period of time hereafter.
Polices benefiting farmers should be improved and investment in agriculture and rural areas should be increased substantially.
Basic supply of major agricultural products should be guaranteed, and farmers' income should be increased.
Agricultural infrastructure construction should be secured and condition for agricultural production should be improved at a quicker pace.
Technical progress should be made for agriculture and related talents should be cultivated. Meanwhile, socialized services should be expanded in rural areas.
Social undertakings in rural areas should be revved up, while rural infrastructure should be reinforced.
The basic rural operation system should be stabilized, and rural reforms should be deepened.
China has since the 1980s held a central rural work conference every year to assign work for agriculture and rural areas in the following year.
In a related development, Agriculture Minister Sun Zhengcai announced on Saturday that China produced more than 500 billion kilograms of grain in 2007, the fourth consecutive year of yield growth.
He added that farmers saw their annual per-capita net income increase by 7 percent to 4,000 yuan ($540), largely due to price rises for farm produce, a larger number of rural migrant workers and more government subsidies for agricultural production.