Ganzhou in East China's Jiangxi Province, known as the tungsten capital of the world, has successfully converted its resource advantage to an economic one.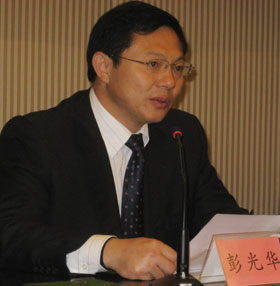 Peng Guanghua, director of the publicity department of Ganzhou municipal party committee, talks with Internet media reporters in Ganzhou, East China's Jiangxi Province, December 20, 2007. [chinadaily.com.cn]
Several years ago, illegal mining activities were rampant in Ganzhou and raw materials accounted for a large percentage in the total output. Tungsten ore and powder, which are two kinds of raw materials with low profit margin, were the main products of Ganzhou tungsten enterprises before 2004.
Although tungsten reserves in Ganzhou ranks it first in the world, the abundant resources didn't bring wealth to this city.
However, in 2004, the local government decided to develop a tungsten industry cluster. It aimed at regulating the mining industry and making better use of resources so as to promote the healthy and sustainable development of the whole sector.
In the past three years, the government has closed a number of illegal and dangerous mines. All mining tungsten licenses in Ganzhou were put up for auction. Now mine owners are more careful about natural resources and use them more efficiently.
Local government has not only controlled the tungsten mining in order to save this valuable resource, but also emphasizes the need to develop processed products as well.
As a result, the rapid development of the tungsten industry has brought great benefits to Ganzhou.
"The total sales income from the tungsten industry in Ganzhou exceeded 10 billion yuan (about US$135 million) last year while it was only 1 billion yuan (about US$13.5 million) in 2004," said Peng Guanghua, director of the publicity department of Ganzhou municipal Party committee at a press conference on Thursday.
"Now China is a global player in affecting the price of tungsten and its processed products," he added.