An adopted American girl who was dying from bone marrow failure but survived thanks to a transplant finally met her savior Thursday.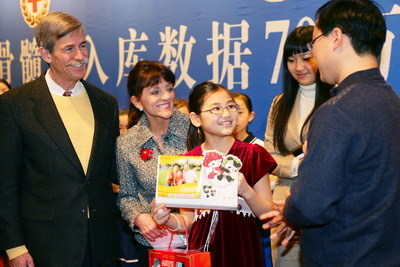 Kailee Wells, a 10-year-old girl who survived aplastic anemia thanks to a successful bone marrow transplant last year, holds a calendar presented to her by donor Wang Lin (R), a doctor from a Zhejiang Hospital December 20, 2007. [China Daily]
Ten-year-old Kailee Wells presented to her bone marrow donor, a tearful Wang Lin, a picture frame inscribed with the words: "You are my hero. I will love you forever."
Wang swept Kailee up in a big hug when they met in Beijing at the emotional event organized by the Red Cross Society of China.
"To see her standing before me, I feel so moved, so happy," said Wang, 30, a doctor from the eastern city of Hangzhou. "The fact that we could be matched among this sea of people is a matter of fate."
The bespectacled Kailee, wearing a maroon dress with white lace, stood shyly by and held Wang's hand.
Born in the central province of Hunan, the youngster was abandoned as a baby on the steps of a training institute for teachers in the city of Changde.
She spent a year in an orphanage the Wells family of Albuquerque, New Mexico, adopted her.
Just after turning 5, she fell ill with aplastic anemia, in which the bone marrow stops producing blood platelets and red-and-white blood cells.
After a desperate and unsuccessful search on global marrow donor bases, Kailee's mother, Linda Wells, came to China in 2003 in hope of finding a match, preferably from a sibling.
But none was found.
In 2005, amid a donor pool that had expanded to about 300,000, Wang - himself a father of a young son - was found to be a suitable candidate.
After an unsuccessful transplant with cells that didn't match, Kailee had her second in November 2005 with Wang's bone marrow - but her blood count continued to decrease.
In February, she underwent her third transplant, which her mother said was her last chance, and it was successful.
At Thursday's ceremony, Wang gave Kailee a calendar with photos of his family.
When asked how she felt about meeting her benefactor, Kailee said one word: "Pleasure."
Owen Wells, her father, told Wang he was "Kailee's special daddy" as he shook hands with him.
Kailee and her family, who now live in Milwaukee, Wisconsin, say they will be spending Christmas in China and want to help recruit more marrow donors.
They will also make a trip to Hunan to meet other orphans.
The number of China's bone marrow donors on the registry has grown from tens of thousands in 2003 to 700,000 today, thanks to an increased understanding of the procedure by ordinary Chinese citizens.
"More people need to have basic knowledge of it. Now they feel horror when they hear about marrow donation," said Hong Junling, director of the Red Cross Society's blood and stem cell program.
"They need to know there's no harm to their health."
Even with 700,000 potential donors, just 60 percent of people who need a match will find one, Hong said.
Once the registry boasts between 2 million and 5 million people, demand can be fully met, he said.