The country has ample grain reserves to meet consumer demand and help stabilize prices during the coming festive period, the State Grain Administration said Thursday amid high inflation and an expected increase in holiday spending.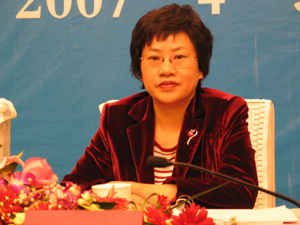 Zeng Liying, deputy director of the State Grain Administration
"China has stored enough grain to fully meet market demand," Zeng Liying, the administration's deputy director, said on the government's website www.gov.cn.
Her statement came amid expectations that the coming 50-day festival season, spanning Christmas, New Year and the Spring Festival, might spur the consumption of grain, food, meat and cooking oil, and in turn fuel inflation rises.
The government has recently introduced a slew of measures aimed at cooling food prices and inflation.
This week, it scrapped the 13 percent tax rebates on wheat, corn, soybean and flour products, while exports of corn and wheat were halted in the second half of the year to ensure domestic demand was met.
This month, the central government ordered 36 major cities, including Beijing, Shanghai and Guangzhou, to each maintain a minimum 10-day reserve of food and cooking oil supplies, to help ensure market stability amid rising food prices.
The authorities also started selling State reserves of corn and wheat earlier this year to meet domestic demand and control prices. It sold 500,000 tons of corn from its reserve this week, following a similar move last week.
"All the measures are being taken to fight rising consumer prices," Zeng said.
China's inflation rate reached 6.9 percent last month, the highest in 11 years. Food prices, which make up a third of the consumer basket, rose 18.2 percent.
Xiao Meiling, a 50-year-old housewife from Deyang in Sichuan Province, said: "The festive period has already fueled a spike in food and cooking oil prices."
She said the price of a 5 kg bottle of cooking oil has risen by about 8 yuan ($1.08) in the past 10 days.
"This is because more and more shoppers have thronged to the supermarkets, as the holidays approach," Xiao said.
Zeng reiterated that the domestic supply of agricultural products remains steady.
"The country's grain harvest is expected to exceed 500 million tons this year, rising for the fourth consecutive year," she said.
She said the country's ratio of grain reserves to consumption is also much higher than international standards, but did not elaborate.
"China has reached a balance between grain supply and demand," Zeng said.
"This year's harvest plus the rich reserves will fully meet the demands of the domestic market."