Wu Weiqing likes to hum while working even if he is under tremendous pressure. But it's halleluiah, rather than songs, that he hums.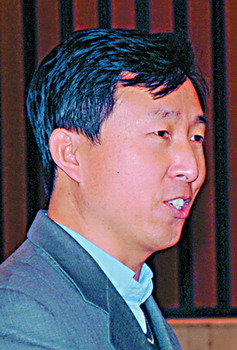 Wu Weiqing
The 44-year-old is the pastor of the newly built Beijing Haidian Christian Church in the heart of Zhongguancun, called China's Silicon Valley.
The all-white modernistic structure opened its doors to believers in June. Its architecture has generated a lot of interest because it is so different from the other churches in the capital.
Wu himself represents the new generation of pastors. He graduated from China's top Christian university, Nanjing Union Theological Seminary, in 1989, and speaks English fluently.
"He is good at illustrating the Bible through lively examples from our daily life, which helps us a lot in understanding the text," says Zhou Zhigang, a 23-year-old Christian.
Beijing's Christian society assigned him to the church in 2001 because it needed an English-speaking pastor. The church attracts a lot of overseas Christians because it is close to Peking University, Tsinghua University and other institutions that draw foreigners.
"We have English services on Sunday, and about 50 foreigners usually come to the church along with university students," Wu says.
A lot of people attend weekend mass at the church, and about 70 percent of them are youths from nearby universities and IT companies.
Wu has a busy daily schedule because he is also the deputy chairman of the Beijing Christian Council and a member of the local people's congress. Also, he spends several months each year visiting foreign counterparts.
Working on his doctoral thesis, to be submitted to a university overseas, Wu says his fate as Christian was destined by God.
The middle school that he attended in Dandong, Liaoning Province, was right in the middle of a Buddhist temple and a Christian church. "I was curious about both religious buildings then. But it was my fate to be a Christian," he says.