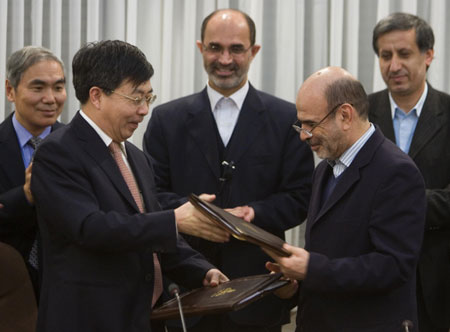 Assistant to the President of SINOPEC Group, Zhou Baixiu (2nd L), and Iran's Deputy Oil Minister in charge of International affairs, Hossein Noghrehkar Shirazi (4th L), exchange the agreement protocols during an official ceremony in Tehran December 9, 2007. [Agencies]
TEHRAN -- China Petrochemical Corporation, better known as Sinopec Group, and the Iranian oil ministry on Sunday signed a contract on the development of the Yadavaran oilfield in southwestern Iran.
"The initial estimation of the project's cost is about $2 billion," Iranian Oil Minister Gholam Hossein Nozari told reporters at the signing ceremony in Tehran.
He said that the project would be carried out in two phases.
"The first phase to produce 85,000 barrels per day will be carried out in four years and the second phase to produce another 100,000 bpd will be carried out in another three years," Nozari said.
According to Iranian estimates, the Yadavaran field has in-place oil reserves of 18.3 billion barrels and gas reserves amounting to 12.5 trillion cubic feet, of which 3.2 billion barrels and 2.7 trillion cubic feet are recoverable respectively.
Sinopec Group is the parent of China Petroleum and Chemical Company, or Sinopec Corp., which is listed on stock markets in Hong Kong, New York, London and Shanghai.