CAPE CANAVERAL, Florida -- NASA Sunday postponed its launch of the shuttle Atlantis until early 2008 after technical problems scuppered the planned delivery of a European laboratory to the International Space Station.
The launch was scrubbed for a fourth time in the early hours after NASA engineers discovered that one of the sensors on the spacecraft's external hydrogen fuel tank had failed.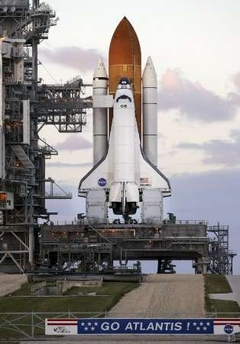 The space shuttle Atlantis sits on launch pad 39A following several scrubbed launch attempts at the Kennedy Space Center in Cape Canaveral, Florida December 9, 2007. [Agencies] 
"The mission management team has decided to postpone the launch until January 2 at the earliest," NASA spokesman Allard Beutel said.
The Atlantis crew of seven was preparing for an 11-day mission to fly Europe's Columbus laboratory to the space station, orbiting hundreds of miles above Earth.
They had not yet entered the shuttle before the launch was called off, and will now return to NASA headquarters in Houston later Sunday, the agency said.
"We were ready to fly, but understand that these types of technical challenges are part of the space program," a crew statement said.
"We hope everyone gets some well-deserved rest, and we will be back to try again when the vehicle is ready to fly."
Atlantis's launch had already been postponed from Thursday, after two of the sensors gave false readings during fueling. Under NASA rules, all four sensors have to be working properly for the launch to proceed.
If the sensors on the external tank register low fuel, they shut down the main engines on the shuttle itself, and NASA bosses said technicians need more time to find out what was causing the faulty readings.
The crew included two European Space Agency astronauts -- Hans Schlegel of Germany and Frenchman Leopold Eyharts. Eyharts was scheduled to stay on the ISS for two and a half months to prepare Columbus for future scientific work.
Until now, only the United States and Russia have had their own laboratories at the ISS.