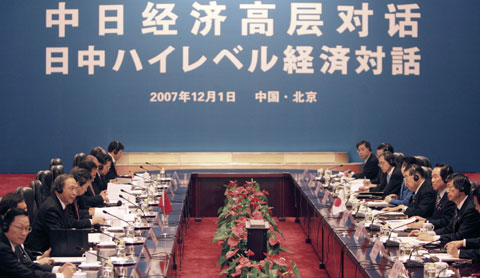 Visiting Japanese Foreign Minister Masahiko Komura (R) sits across from Chinese Vice Premier Zeng Peiyan (3rd L) and their respective delegations during talks December 1 2007 at the Great Hall of the People in Beijing, where Komura was jointly chairing a high-level economic and trade meeting with Zeng. [Agencies]
BEIJING -- China is willing to create sound conditions for Japanese firms to invest in China, Chinese Vice Premier Zeng Peiyan said at the ongoing first China-Japan high-level economic dialogue held in Beijing on Saturday.
According to Zeng, four major problems exist in Sino-Japanese economic ties: a slowdown in the growth rate of bilateral trade, unsatisfactory business environment, obstacles in technological cooperation and fluctuations of Japanese investment in China.
China also hopes Japan considers China's concerns on the status of market economy, trade conditions, export of high and new technologies and personnel exchanges, he said.
"China and Japan share expanding mutual interests and new opportunities for cooperation under new historical conditions," said Zeng, who called for both sides to enhance economic and trade cooperation.
"We should create a new pattern of economic and trade cooperation, putting emphasis on both commodities and services," Zeng said.
The vice premier also urged the two sides to improve technological exchanges on energy-saving and environmental protection and work together more on global and regional economic issues.
"As the two biggest economies in Asia, China and Japan shoulder great responsibility for global economic stability and the prosperity of east Asia," Zeng said.
The meeting was co-chaired by Chinese Vice Premier Zeng Peiyan and Japanese Foreign Minister Masahiko Komura.
The China-Japan high-level economic dialogue mechanism was jointly launched by Chinese Premier Wen Jiabao and then Prime Minister Shinzo Abe of Japan during Wen's trip to Japan in April.
Japan is China's third largest trade partner and the second largest source of foreign direct investment.
China is Japan's largest trade partner and one of Japan's fastest growing export markets.
FMs Hold Talks
Chinese Foreign Minister Yang Jiechi and his Japanese counterpart Masahiko Komura held talks in Beijing on Saturday, and both ministers expressed confidence in the further development of China-Japan relations.
Yang said the current China-Japan relations have maintained sound momentum and bilateral cooperation in various fields has made remarkable progress.
China will continue to pursue the good-neighborly and friendly policy with Japan and develop long-term stable cooperation based on the three political documents between the two countries, he said.
China is willing to make joint efforts with Japan to expand exchanges and cooperation in an effort to push for new progress in the China-Japan relationship, Yang added.
Komura said the atmosphere of Japan-China relations is good and the meetings between state leaders of both countries have forcefully promoted the development of bilateral ties.
Japan is willing to increase mutual trust in politics and security and facilitate bilateral exchanges and cooperation in environmental protection and culture.
On the Japanese Prime Minister Yasuo Fukuda's upcoming visit to China, Yang said both sides should strengthen cooperation and make preparations for Fukuda's visit so as to ensure a successful visit and push ahead with bilateral relations.
Komura said Japan will keep close coordination with China so that the exchanges of visits between leaders of the two countries could yield positive outcomes.
Komura, who is on his first visit to China since taking office as Japanese foreign minister, led a Japanese delegation to participate in the first China-Japan high-level economic dialogue.
Before their two-hour closed-door meeting, Yang called Komura "an old friend of the Chinese people" and has long been devoted to promoting China-Japan relations.
"With the concerted efforts of the two sides, the first China-Japan high-level economic dialogue, held on Saturday afternoon in Beijing, would make major achievements," Yang said.
Komura agreed with Yang and said he would work with Yang for new contributions to the Japan-China strategic relations of mutual benefits.
Komura and Yang also signed agreements on mutual cooperation in criminal investigations and on Japan's final batch of yen loans to China after their talks.