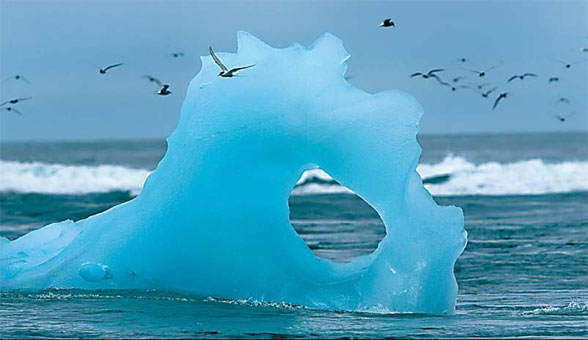 A "glacier lagoon" floats away after breaking off from a glacier near Jokulsarlon in Iceland's waters. Glaciers cover about 11 percent of Iceland's total area of roughly 100,000 square km. Experts say Icelandic glaciers will disappear in the next 200 years unless immediate steps are taken to undo the damage caused by global warming. China Foto Press
One generation plants a tree; the next generation gets the shade. This old Chinese proverb best describes how the battle against climate change is being waged in China.
Despite having just one-fifth of the USA's per capita carbon footprint, China has made strenuous efforts in recent years to fight global warming and raise public awareness against it.
A UN Development Program (UNDP) report released on Tuesday shows more people in developing countries see climate change as the biggest threat to the world, with Mexico, Brazil and China topping the list. For example, only 22 percent of Britons see climate change as a big problem facing the world, compared to almost half of Chinese.
Climate change is likely to cause massive human and economic disasters and irreversible ecological catastrophes unless the international community cuts greenhouse gas emissions by half over the next generation, says the report, "Fighting Climate Change: Human Solidarity in a Divided World". Coming after the grave report of the UN Inter-governmental Panel on Climate Change, the UNDP document again warns that the rise in global temperature has to be kept below 2 C to avoid a catastrophic impact.
The world does not have to pay much, compared to the gravity of global warming, to stabilize the carbon stock and prevent the temperature from shooting above the target: it has to spend just 1.6 percent of the global economic output a year till 2030. Not a very high price indeed.
"The impact of decisions taken today will still affect people 100 to 150 years from today. And actions need to be long-term, to match the length of carbon cycles, not the short-term political cycles of elected officials," the report says, urging the international community to tackle the problem unitedly.
The UN body recommends measures, including improved energy efficiency for appliances and cars, taxes or caps on emissions and improved regulations and laws, to curb global warming. "Regulatory standards matter because they can influence fleet efficiency, or the average number of miles traveled per gallon."
For example, raising standards by 20 miles (32 km) per gallon would cut oil consumption by 3.5 million barrels a day and save 400 Mt carbon dioxide (CO2) emissions a year, more than Thailand's total annual emission. But, says the report, efforts to raise fuel efficiency standards are often countered by powerful vested interests. In the US, for instance, fuel efficiency standards have slipped over time, and are now lower than in China.
The report spells out extensive menu options, from carbon finance and trading to public-private partnerships, risk guarantee instruments and low-carbon technology transfer, to help developing countries, especially coal-dependent ones like China, fight climate change.
The Chinese government, however, has already committed itself to reducing energy consumption per unit GDP by 20 percent and pollutant discharges by 10 percent during the 11th Five-Year Plan (2006-10). In June, it released a national action plan to fight climate change. The National Plan for Coping with Climate Change details the country's specific objectives, basic principles and policy initiatives to check global warming.
The government's latest effort has made it mandatory to evaluate officials' performance not only with economic and social development, but also with quantitative energy saving and pollutant discharge indicators. Also, it is promoting renewable energy development seriously and has put afforestation high on its agenda long time ago.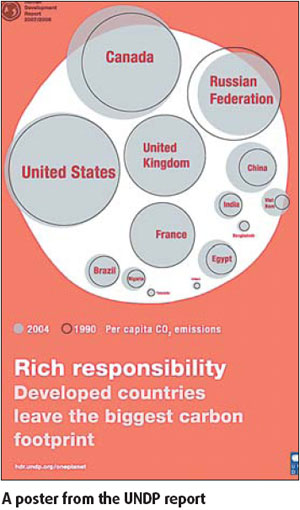 An important aspect of the UNDP report is the assertion that developing countries, not historically responsible for the greenhouse gas emissions that plague the world today, cannot be expected to cut their discharge at the same rate or over the same period as that proposed for the developed nations.
Most rich countries are failing to meet their Kyoto Protocol targets of cutting greenhouse gas emissions, even though 172 countries have signed it. Interestingly, the US, the biggest greenhouse gas emitter, and Australia didn't sign the most vital agreement to save the planet.
Many of these rich countries have publicized their targets and schemes for reducing emissions in the greatest manner possible, but only a handful can claim to have achieved some success in curbing emissions through specific programs, says the report.
France, for one, is a country that doesn't shy away from accepting its historical role in emitting greenhouse gas and taking corrective measures. And President Nicolas Sarkozy is ready to own up to it, as was evident from his remark in Beijing on Tuesday. He said: "In terms of per capita pollution, the damage our country has caused is much more than yours, and therefore we should shoulder greater responsibility (to undo it)." Unfortunately, the number of countries ready to do whatever is needed to rectify past environmental mistakes is very few.
"Wealthy countries have neither demonstrated international leadership on climate change nor accepted responsibility for past emissions, yet they have already spent billions (of dollars) adapting to its effects. Poor countries are not historically responsible for carbon emissions but are being made to deal with the impacts of climate change on their own," says the report, indicating the unfair balance in the fight against global warming.
As the UNDP says, nothing could be a better example of double standards.